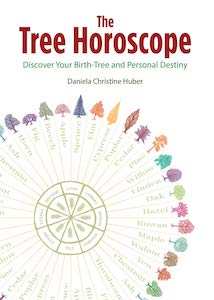 The Tree Horoscope: Discover Your Birth-Tree and Personality Destiny, by Daniela Christine Huber
Earthdancer, 9781644113226, 144 pages, October 2021
Did you know that everyone has a birth-tree based on the day they were born?  In The Tree Horoscope: Discover Your Birth-Tree and Personality Destiny, Daniela Christine Huber describes the 22 different archetypal trees that shape your personality and lifestyle. As someone who absolutely loves nature, especially trees, it has been a pleasure getting to know more about my signature tree horoscope. The best part is how Huber makes it easy to jump right in and get started!
The book starts out with an introduction to Celtic tree mythology and Daniela's experience of working with these energies. Previously, I had learned the Celtic tree-months while reading A Spell in the Forest by Roselle Angwin, which covered the Ogham calendar and the 13-month wheel of the year in which tree-months were connected to lunar cycles. Huber has created horoscope profiles based on the archetypal Celtic tree energies. She reminds us that "Following the path of this connection with Nature with our hearts will lead us to the Source, the roots within us."1
In Huber's system, each Celtic tree appears twice in the cycle of the year, with the expectation of Oak, Birch, Olive, and Beech that have just one day assigned to them. Every birth-tree also is assigned an earth element (earth, water, fire, air, ether) and Huber offers a short description of the energy of each. She also discusses how connecting with the element of our birth-tree can help restore balance and fulfill emotional and psychological needs. She describes how "Our birth-tree is the guardian of our individual potential; it will always remind us of that fact and help us to become aware of our gifts and talents."2
There's an easy to follow chart in the front of the book that makes it easy to find one's birth date and look up their birth-tree. Mine is Cedar of Lebanon, so I went right to that page first. Immediately I was struck by the beauty of the photograph featured. I think the pictures in this book are one of it's best attributes. It's one thing to read about the different trees, but to see photographs of them really helps with identification. I like having a visual when connecting with the energy of my birth-tree.
For every tree, there is information about the elemental family, gifts and talents of those with the tree energy, the tree's mantra (called "Carpe arborem" by Huber), the tree's symbolism, and the path of life for people born with this birth-tree. The path of life is the longest section of each horoscope. Then there is a general overview of the personality of people with the birth-tree, healing powers of the tree, birth-tree power, and inspiration for someone with the tree's personality. It's quite a bit of information packed into just a few pages!
I really resonated with my tree horoscope. It highlighted my personality pretty well. I especially liked learning more about the healing powers of my birth-tree, and I loved my carpe arborem:
"I am freedom of choice, the core from which the creative powers in my life can take effect. I free myself from the limitations of my understanding with humility and reinvent myself over and over again."3
This was very affirming for me because I feel like I am constantly reinventing myself as I continue to learn and grow. Creativity is a big part of my life, and I felt the connection with the Cedar of Lebanon tree in this regard. To deepen this solidarity with my birth-tree, I decided to order Cedar incense that I can burn to remind myself of the special powers associated with this birth-tree: courage and self-confidence.
I have shared the tree horoscopes in this book with some friends and family. They too have all been delighted with the insight it's given them. Another neat feature of the book is the birthday calendar in the back, where you can keep track of everyone's birthday . It lists their birth-trees, as well as famous people also born with that particular birth-tree. I really like how easy it is to keep track of birthdays, while also learning more about the birth-trees and reflecting on how they reflect the energies of people in my life.
Earth energies, such as flower essences and herbal remedies have always been an important part of life. For years, I've focused on bridging heaven and earth by teaching how our energy is always reflected in both the natural world and celestial bodies. The Tree Horoscope does a beautiful job of demonstrating this idea by giving readers insight into who they are based on their corresponding birth tree. I absolutely love how the book fosters an ecocentric view of human's relationship with trees, acknowledging how they influence our development.
All in all, this is a wonderful book for those hoping to learn more about their personality and discover how it is shaped by their birth-tree. I think The Tree Horoscope would make a great birthday gift, though it's also useful to store birth dates of loved ones to make sure you never miss their special day. The beautiful photographs are a wonderful way to practice tree identification. While this is only a small snippet of the mythology of Celtic trees, the book is a good starting point for those who want to learn more about the different symbolisms and energies of these mighty connectors of heaven and earth. I've really loved reading this book and will definitely be referring back to it as the days of the year go by to see which tree energy is present.

Alanna Kali is an astrologer, numerologist, and pioneer spirit that loves to explore life through the lens of depth psychology. She has a passion for studying the humanities and social trends. Her academic work is centered upon reuniting body, mind, and spirit through eco-psychology. She loves reading, spending time in nature, and travel.
References