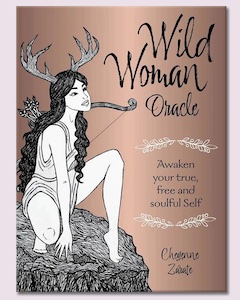 Wild Woman Oracle: Awaken Your True, Free and Soulful Self, by Cheyenne Zárate
Rockpool Publishing, 1925946835, 144 pages, 44 cards, October 2022
Cheyenne Zárate, the enigmatic artist who created Wild Woman Oracle: Awaken Your True, Free and Soulful Self, knows exactly how you're feeling when you say you want to reconnect with the wildness inside you. She asks us to "reflect regularly on who we truly are,"1 something which is achievable with this easy to use, beautifully crafted pack.
Zárate is a supremely talented artist, now living in Canada with her two cats, Carlos, and Lily. In this deck, she draws on her Scottish, Chilean, and Ukrainian ancestry to bring us feminine figures from around the world. Her adoration and respect for these wild women is apparent here in her artwork and perfectly written descriptors. Zárate wishes to celebrate women, help them find their strength and power, "to reconnect with their wild feminine nature in order to live in alignment with their authentic truth"2
It was the title of Wild Woman Oracle that first drew me to these cards. I have an underlying "wild woman", who is desperate to get out and be seen. I thought these cards might help me to embrace her and set her free. Just the thought of getting closer to nature and finding that connection deep within was all I needed to make the decision for this set.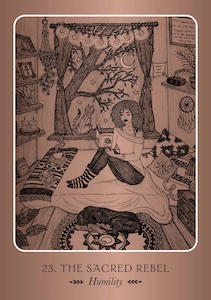 To begin with, before I even opened the pack, I was mesmerised by the imagery. The colors used and beautiful sketch work on the box, I was instantly in love. This is carried throughout, with each card having an almost metallic feel to them, the drawings looked etched, opposed to drawn. The set consists of thirty-six cards and a guidebook, complete with an introduction to Zárate and how to use the cards. A message for each individual feminine icon is included, along with their symbolism.
There is something deep within us that's wild, leftover remnants from a time when we may have been forest dwellers. It is that urge that makes us want to climb a mountain, swim naked in a lake, or just take yourself forest bathing in your local woods. You find inner peace and a connection to the earth.
I have used many oracle and tarot decks before now, some of which I have found to be extremely useful. They have given me insights into my mind, heart, and soul–insights that I never would have found without them. I have felt that they were created in such a way that I could rely on them for guidance and awakenings, which is how I also feel about Wild Woman Oracle. I knew that as soon as I opened the box, they were going to be there for me and offer that same kind of help.
I have found that classic tarot can often be quite harsh, unforgiving, hard to navigate and honestly, difficult to work with. And although I know we need to take the good with the bad, tarot to me has always been a bit of a tyrant. Oracle cards, especially this deck, give you a softer approach.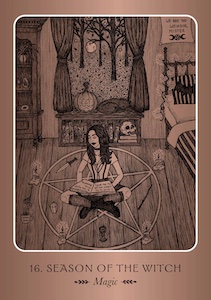 I have consulted angel cards  in the past and although their messages and guidance were brilliantly accurate, I am not a religious person and some of the phrases used, such as angels, God, and heaven, just don't sit right with me and I would find myself changing the words to suit. Usually, I would exchange those words for "the Universe," a phrase used throughout the Wild Woman Oracle. I had been searching for a deck that would speak my language, and I may have just found it.
Though no deck should be used without prior knowledge of how to read them–you must do your research before diving straight in–these cards are a perfect place to start if you are just getting going on your reading journey. It's a nice relaxing way to spend time alone, get yourself a cup of honey tea, light a candle, and give yourself time to take in a reading from the wild women of the Universe.
I like to take my cards when I'm away with friends, so we can do a reading every six months or so. I haven't yet had the chance to show them this fabulous pack, but they will definitely be in my case for our next trip.
I did, however, get the chance to do a reading for my Mum. She chose the classic three card reading: past, present, and future. We were pleasantly surprised to find that the cards touched upon subjects and important life aspects that needed attention at that time, some of which have been an issue for several years. The cards were adamant that this needed addressing immediately and that too much time had already been wasted. They guided her with the steps to take, how she can resolve these issues, and, more importantly, which of the wild women to call upon when needed.
The personal changes I am experiencing at the moment, physically and mentally, have been at the forefront of my mind, and when I did a reading for myself it was obvious that the cards were aware of this. They have alleviated some of my worries, given me an alternate way of viewing things, and I now feel I have them to call on when I need more guidance.
In my first reading, I drew death, destruction, and divine service. My first instinct was of course to worry about what this might mean, but the death card can have an array of different meanings and not the actual death of you or anyone else. It represents new beginnings, a chance to start fresh, tear yourself down, and rebuild. It can be a job, a relationship, a focused time in your life. Here is your chance to reinvent yourself. And this reading gave credence to feelings I've had: I need to let go, and I have been given permission, safe in the knowledge that these supreme beings had my back.
One card, the Inner High Priestess, stood out to me. She sits, solitary, the moon visible from her window, her black cat at her feet. She is in control, busy, but rested. Powerful. Pillars stand at either side of her, with the letters B & J, representing Boaz and Jachin from the Temple of Solomon. She holds the balance: good and evil, dark, and light, feminine and masculine. 
"The High Priestess is the portal between the earthly plane and the heavenly spiritual plane: She has one foot planted firmly in each dimension." 3
The guidebook for this deck is pocket sized, easy to follow and features some lovely designs. The instructions are set out for whichever reading you choose: one card and three card divination, past present and future or situation, action, and outcome. A description for each depicted feminine figure is given, plus what they each represent and the message they wish you to have.
For example, my Inner High Priestess card represents divine service, wisdom, intuition, psychic abilities, and sacred occult. It's an incredible card to draw, one of which has come to me twice in a row, at a time when I was in desperate need of her guidance, so I feel incredibly honored for it to have done so.
In Wild Woman Oracle, Zárate has drawn upon her own personal experiences in order to bring together the strongest feminine figures from myth, legend, and folklore. These inspiring women who we look up to, seek out, and aspire to be, are all within our reach, right beside us and deep within us.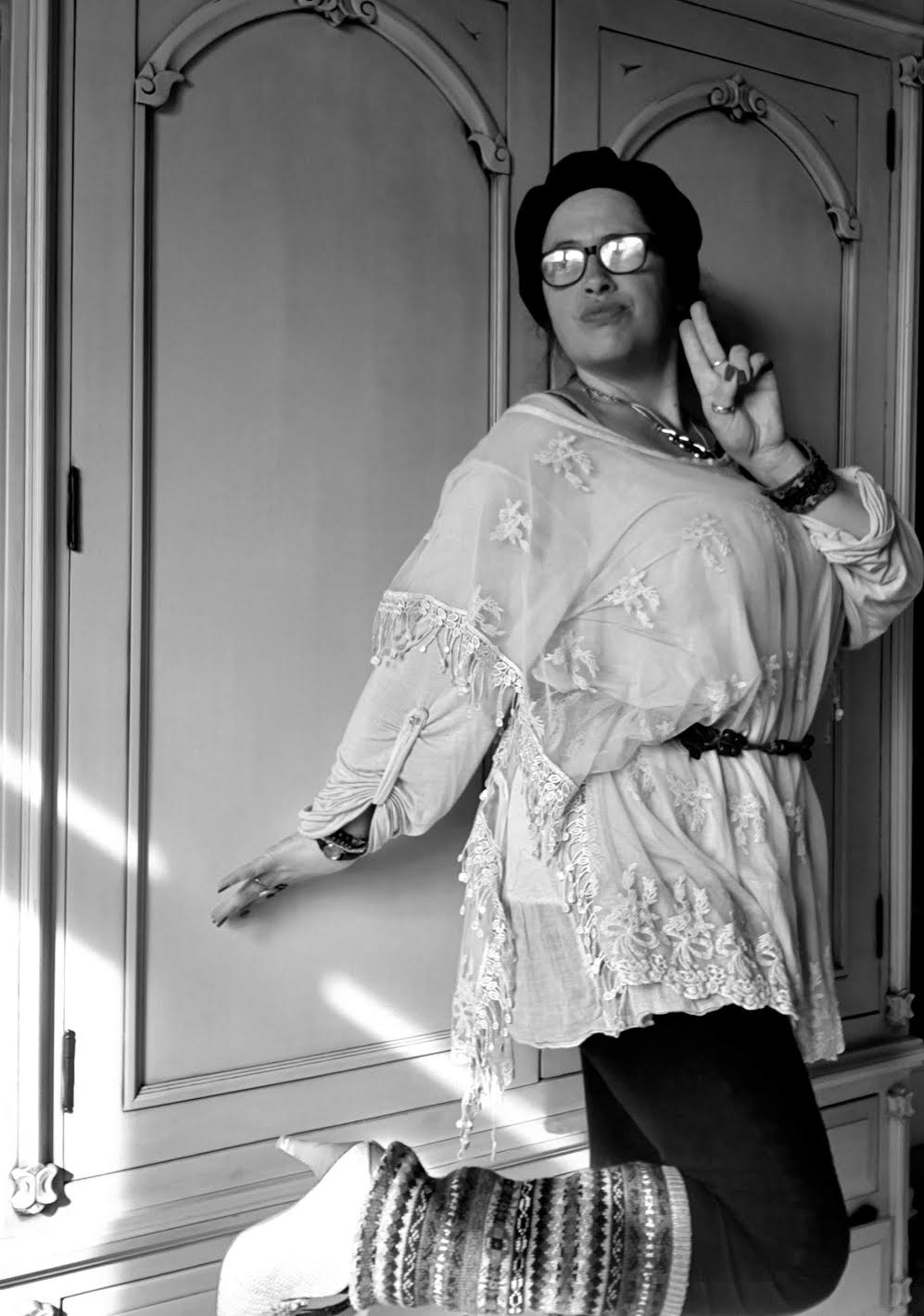 Kate Hames is, in no particular order, a writer, a witch, and a performer. She has a Bachelor of Arts Degree, a Certificate in Natural Sciences, and loves to travel and explore. When she's not harassing the cat, she can be found with a camera in hand, hiking a hill or eating. Find her on Insta @madeahames or FB @KateHames
References