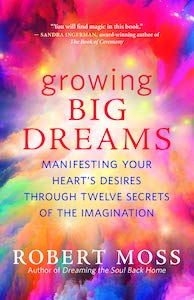 Growing Big Dreams: Manifesting Your Heart's Desires Through Twelve Secrets of the Imagination, by Robert Moss
New World Library, 1608687046, 344 pages, September 2020
What does it mean to truly live out your dreams? For some, it may feel like the idea of manifestation has been co-opted by positive thinking gurus teaching how to harness control of your mind to direct it very specifically toward an intent. But what if the real secret to manifestation is not within your conscious mind, but your dreaming one? In Growing Big Dreams: Manifesting Your Heart's Desires Through Twelve Secrets of the Imagination, Robert Moss teaches how to use time honored techniques to enhance your life through dreams and imagination.
Moss provides twelve insights that reveal the power of dreams and teaches how combined with imagination these dream techniques can guide one to living their soul's callings. This mixture of shamanic journeying, depth psychology, story-telling, creative exploration, and dream-weaving is a wonderful tapestry to explore one's own bigger story in life. By bridging the mythic and mundane, a doorway opens up to explore the deeper callings and potential for our lives, most often revealed through dreams and the imagination.
Before delving into my review, I must confess, I am a huge fan of Robert Moss. His work has been deeply influential on my dream practice, and I've read quite a few of his books, as well as taken an online course through the Shift Network led by him. Some of his most notable books are Active Dreaming, Dreaming the Soul Back Home, and The Secret History of Dreaming. I also have previously reviewed his book published in 2018, Mysterious Realities. He is an incredible storyteller, teacher, and dreamer.
However, despite my familiarity with Moss's work, I still gained so much from Growing Big Dreams that was original, unique, and impactful. The entire process of reading this book felt like the gateways to my creativity where being flung open, allowing streams of insight to flow in and shift my perspective. There's three things I especially love about the way the book is written that I want to focus on because I feel they really highlight what stands out about this book in particular.
The first is the many, many stories Moss provides to give examples of what he's writing about. Since he's been actively practicing and teaching dreamwork for decades now, he's filled to the brim with stories to tell, and he perfectly blends his wisdom with an anecdote to show the reader how the principle can manifest or be applicable in their own life.
There were stories of recovering illness through dreams, discovering personal power, transferring dreams to another for healing, and reconnecting with parts of oneself that have been previously split off. Every chapter has a reflection on a workshop taught or story from one of his students who used the technique successfully, and it makes me confident as a reader that I too can connect with my dreams and imagination for healing and personal growth.
The second is that the whole book is filled with mythology, stories, and wisdom from tons of cultures. Quite literally spanning the globe, there is immense diversity in Moss's approach to dreamwork. Moss discusses his experience of connecting with an indigenous medicine woman when he purchases land in New York. He also delves into the mythology of many pantheons, especially the Greek pantheon with the myth of Persephone. There's a really intriguing story of his connection with Yemaya during a workshop in South America. Additionally, there's stories of working with ancestors, animal guides, and gatekeepers.
Also referenced often are the insights of people, such as Barbara Hand Clow, Dion Fortune, and David Bohm. Moss draws from physics, psychology, religion, and more to bring together a comprehensive method of manifestation unlike anything I've ever read before. I especially enjoyed reading about Henry Corbin, who translated the works of Islamic mystics Alam al-Khayal and Alam al-Mithal, and who wrote on the Mundus Imaginalis (imaginal realm).
"It is a region of mind between the world of time and the world of eternity. In this realm human imagination meets intelligence from higher realities, and they co-construct places of healing, instruction, and initiation. Here ideas and powers beyond the grasp of the ordinary human mind — call them archetypes or Platonic forms — take on guises humans can begin to perceive and understand."1
But here's the third thing that makes this book so epic: Moss doesn't just write about this stuff and leave you with no map, he provides exercises and practices so the reader too can explore. It took me quite a while to make my way through this book because I kept wanting to try all the exercises, while also giving myself the time to integrate them without just rushing onto the next section in excitement.
Some of the ones I tried were Journey to the Cave of Mama Bear, Six Impossible Things Before Breakfast, Visit Your Dream Cinema, Journey to the Blue Lake of Healing, Bring Hummingbird into Your Heart, Who is Persphone to You?, Through Blue Fire, Step into a Picture, Journey to the Island of Your Heart's Desire, and Gift a Power Animal.
My dream journal is packed after making my way through this book! And Moss did not hold back at all. It's like he took all his techniques, exercises, and tools he'd used with participants in his workshops and classes and wrote it all out for the reader to do at home. Within this book, there is SO much to explore and infinite possibility through the portals of dreams and imagination.
With each exercise I tried, I feel like I found a new piece of myself. The entire time of reading Growing Big Dreams, along with doing the dreamwork and imaginal journeying, felt immensely creative. I certainly feel more attuned to what my soul is yearning for, and like I now have the toolkit to bring about these inner dreams to life in the physical world. 
This is the type of manifestation that I feel everyone should be practicing, as it connects us to ourselves, the energies present in the world (mythic, archetypal, nature, animals, spirits), and assists us in re-envisioning what's possible for our life. I certainly felt my personal story expanding into something larger, a part of a much greater whole.
All in all, I recommend Growing Big Dreams to everyone interested in dreamwork or simply discovering a new pathway for healing and growth.  Once again, Moss has hit the ball right out of the park. I greatly appreciate all the wisdom he shares with readers as a teacher, mentor, and guide. If you are interested in learning more about dreamwork, I think this book is a wonderful place to get started for beginners. Though, experienced practitioners are certain to benefit as well from the techniques shared by Moss.
There's many benefits to attuning ourselves to the wisdom of dreams and imagination, from boosting creativity to nurturing childhood wounds. The ample possibilities that open up when we begin actively engaging with our dream life is absolutely incredible, and it might be just what our world needs most at this time.

Alanna Kali is an astrologer, numerologist, and pioneer spirit that loves to explore life through the lens of depth psychology. She has a passion for studying the humanities and social trends. Her academic work is centered upon reuniting body, mind, and spirit through eco-psychology. She loves reading, spending time in nature, and travel.
References