Magdalene Manifestation Cards: Create Abundance through Love, by Danielle Rama Hoffman and illustrated by Christine Lucas
Bear & Company, 9781591434801, 44 cards, 202 pages, May 2023
In creating the Magdalene Manifestation Cards: Create Abundance through Love deck, Danielle Rama Hoffman has brought keys and holograms for manifestation into the hands of everyone who chooses to work with these codes of light.
Hoffman is an author, channel, and coach, who has been on the leading edge of the evolution of consciousness for almost 30 years. Her clients are healers, coaches, and lightworkers. She has trained massage therapists, reiki masters, and Quantum Light practitioners, as well as led tours to Egypt and France.
Christine Lucas is the illustrator of the beautiful keys, holograms, and light codes. She assigns her lineage to the Ascended Masters Lineage of Thoth. Lucas worked closely with Thoth, the Magdalenes, the Codes of Love, and Danielle to bring these cards to life. Lucas is an intuitive artist, illustrator, and graphic designer, who also has a background in meditation. She loves nature, travel, photography, and music.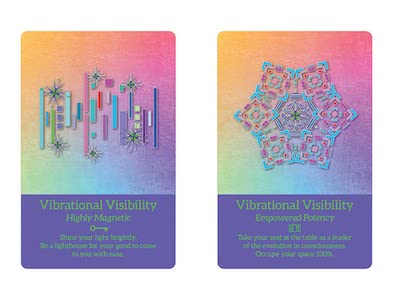 Initially attracted to these cards because of the Magdalenes. Then once I began to play with the energy of the cards, I really resonated with the light codes and glyphs that Lucas and Hoffman have created. The deck is divided into two sections: 1) Four Resource Codes and 2) Twenty Codes of Love. Within the Twenty Codes of Love, you'll find a pair of cards for each concept. The total number of cards in the deck is 44.
Hoffman presents an extensive introduction to the cards, how they came to be created, and her almost 30-year journey with Thoth. She includes some of her journey entries from several different meetings with Thoth, both in France and Egypt. She also defines the Magdalenes:
"A group of love beings including Anna, Isis, Mary Magdalene, the black Madonna, and many galactic beings."1
When she returned from Egypt in 2020 and the pandemic lockdown began, she started to transcribe more of the Magdalene Codes and work on creating this deck. In the introduction, she shares stories from clients and friends who worked with the codes to manifest incredible results in health, wealth, and business success.
Hoffman shares several ways to work with this deck, from simple one card readings to a tableau of 16 cards. I chose to work with a one-card reading for 3 days in a row. As Hoffman suggests, I pulled a card from the deck and then found its "pair" for a complete reading and activation of the love codes.
My first card was the key card: Ecstatic Bliss – Joyful Simplicity.
"It is a joy to be me. Bliss exists in every moment. Home in on what matters most to you. Simplify to amplify your results."2
This card really hit home for me, in that we are in the midst of a Venus retrograde, which asks us to really look at what we value and what we really want, focusing on that and letting go of the rest.
Then, I looked through the deck for the second card, the pair to that key, and I found the hologram: Ecstatic Bliss – Signature Essence.
"The difference of you is what matters. Boldly shine your uniqueness for consistent, predictable manifestation."3
This concept is also something I've really been focusing on over the past year as I've worked with a designer to revise my website and fine-tune my offerings to be more true to who I am. I am also learning to put myself out there more with my blog and other posts on social media.
The guidebook has even more guidance from the Magdalenes and Thoth for each card, such as this from the passage on Ecstatic Bliss – Signature Essence:
"Simple, elegant, streamlined. Steep in this hologram to reabsorb that which is no longer aligned with you so that it organically falls away, like leaves on a tree that know when it's time to fall with grace, ease, and an exhale. What remains is Ecstatic Bliss."4
Hoffman also includes what she calls an application for each of the hologram cards. This consists of some suggestions for integrating the message of the card. It may include a ritual, an exercise, or something to do in nature, among other things.
Next, I did readings for three friends with this deck. I pulled the cards and then sent them photos of the cards and brief messages from the guidebook. For one friend who was struggling with a recent move for her business, I drew Birthright of Love. The key card is Authentic Expression, and the hologram card is Openhearted Connection.
The guidance for the key card recommended that she bring in the energy of the four Resource Codes, so I sent her photos of those four cards, as well. The other guidance that she really took to heart: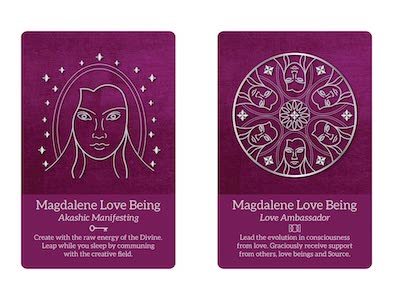 "Take one loving action today, not because you have to, but because it is natural for Love to move through you."5
From the hologram card, I read that it was time to call upon the Birthright of Love Code. This guidance was recommended for the start of a new project, which was relevant to my friend's new location for her business. The guidance went on to suggest focusing on the following affirmation:
"I am loved. All my creations are loved. Love is a given in this situation.6
My friend loved the guidance from these cards and was planning to print out all six cards and use them in her workspace. She called me later to say she printed a second set of cards for her home!
The artwork on these cards and the colors selected are very beautiful. Jewel tones are used with bright colored accents, some of which are almost neon. Each of the pairs of cards share the same color scheme, which makes it easy to find the matching card within the deck.
For another friend, I drew two of the resource code cards: Yummy Money and Divine Relationships.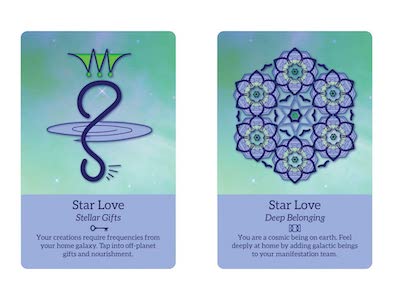 Her message was a combination of allowing money "do things for you and watch your mission thrive"7 and remembering that "you may require primary relationships with light beings, animals, nature and crystals."8 The guidebook encouraged my friend to use the word "Yummy" or say "mmmmm" each time she said or thought about money. Doing so raises your vibration. My friend loved the guidance and loved the Yummy Money challenge!
In order to find the guidance, one must use the table of contents and search for the name of each of the Codes of Love. These are not listed in alphabetical order, which takes a little longer to find the correct code. Once you find the code, you'll see that there is a number assigned to each pair. It would have been very helpful for the designer to incorporate this number on the cards.
Due to the complex nature of the cards, the guidance, and the system to use these cards, I feel that this deck is best suited to someone with several years' experience working with either tarot or oracle cards. Or, someone who is learning light language or learning to work with Thoth or any ascended masters for manifestation or personal healing would also benefit from this deck.
Hoffman includes extensive information on how to best work with the cards, including the use of a 16-card tableau for what she calls "Multi-D Abundance."9 She also includes directions for using the cards for both personal and professional relationships, changing your money story and enhancing your energy. I'll look forward to utilizing Magdalene Manifestation Cards in some of my groups and with clients who want to change the energy around relationships, abundance or vitality.
References