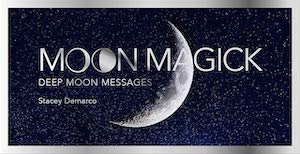 Moon Magick: Deep Moon Messages, by Stacey Demarco, designed by Sara Lindberg
Rockpool Publishing, 9781925946154, 40 cards, April 2021
Moon Magick: Deep Moon Messages by Stacey Demarco is a charming deck of affirmation cards to help one connect with the cycles of the Moon. Stacey has a strong background in paganism and moonology and has published other items such as Queen of the Moon Oracle and the annual Lunar and Seasonal Diary.
The tiny deck is pocket-sized and avails itself to pulling a card a day. As Stacey recommends, "Pull a single card each morning; it is a simple act that will help guide your day with a solitary insight. Hold the affirmation to your heart and integrate it for the day." 1 There are 40 cards in total, each measuring 2 inches by 4 inches. Each card contains an image on one side and a one-line affirmation on the other.
"Our ancient ancestors often relied on divination to gain insight. We, too, as modern people can also benefit from receiving regular messages from the energies."2
The illustrative side of each card is connected to either a Moon god or goddess or a phase of the Moon. Gods and goddesses represented include Dionysus, Diana, Artemus, Tu'er Ye, Hina, Hekate, Mani, and Baiame. The illustration for Tu'er Ye, or the Rabbit on the Moon, depicts a white rabbit standing on its haunches positioned against a full moon with varying shades of blue against a star-filled sky. The accompanying affirmation is "I choose to take a higher perspective and widen my views."
The remaining cards focus on the phases of the moon: dark, waxing and waning crescent, first and last quarters, waxing and waning gibbous, full, super moon, blue moon, micro moon, and eclipse. I was most drawn to these images that just depicted the Moon, as some illustrations included images of people or animals.
The New Moon card was illustrated with a tiny sliver of a pinkish moon against a navy sky, with white clouds below and a few stars in the sky. "I accept renewal and delight in fresh starts"3 was the accompanying affirmation.
The waning gibbous card depicts a woman sitting cross-legged on a rocky ledge, palms resting upward on her knees, as she stares at the yellow rising sun, large white moon above. "I seek balance and grounding"4 is the affirmation.
While I recognize that the deck is an affirmation deck, I think a small accompanying booklet describing the phases of the moon and the gods and goddess would have deepened the meaning of the affirmations for me. It's nice to read the affirmations, but I don't know enough about the deities or moon phases to make a personal connection, and going off the affirmations I don't really get a full message from the cards, just an affirmation with no explanation of how its related to the card's imagery. If you want a deeper dive into the Moon I recommend Demarco's items previously mentioned.
However, I would recommend using Moon Magick to connect to the wisdom of the Moon and for its use to start your day, as long as you are looking for a bit of inspiration. The card can be quite calming to one's mind and soul. For instance, to begin my day today, I pulled the waning crescent card that affirmed "I am loved beyond measure." Priceless! I enjoyed this affirmation very much and have carried the sentiment with me through the day.

Anne Greco is a non-fiction writer who writes about her life experiences and travels with humor, keen observations, and the hope that her words will remind us that "we're all just walking each other home." Her book, Serendipity: Chance Pilgrimages, tells the story of Anne encountering her places of power. As she reconnects with herself at each site, Anne also develops a deeper understanding and appreciation of her connection to both the seen and unseen worlds. Learn more about her work here: http://annegrecowriter.com.
References