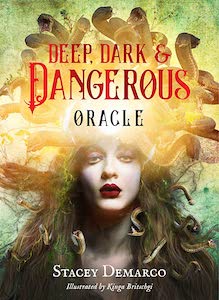 Deep, Dark & Dangerous: The Oracle of the Beautiful Darkness, by Stacey Demarco and illustrated by Kinga Britschgi
Rockpool Publishing, 1922579076, 128 pages, 44 cards, October 2022
Where do you turn to when you want illumination on the darkness present in your life? Oracle cards are my go-to for all sorts of questions, but often for the deeper questions, the "love and light" aspects of many decks feels incomplete, leaving me longing for something more. Deep, Dark & Dangerous: The Oracle of the Beautiful Darkness by Stacey Demarco has become the missing link in my oracle readings, providing meaningful insights from the archetypal energies that lurk in our shadows and depths.
There's a real potency to this deck. For the first time in a while, I took Demarco's suggestion of a dedication ritual in the guide book and performed it before getting started. Admittedly, this is something I rarely do with oracle cards, but this deck inspired a certain reverence that made it feel necessary to brace myself and prepare properly. Just like how I dip my toes into a deep pool to test the warmth before diving in, I have been called to move more slowly with this deck as I do my readings – not wanting to pull too many cards at once and be overwhelmed by what energy is coming through the deck.
Luckily, Demarco is someone I trust to guide readers to meeting these mysterious energies with care. She has created dozens of oracle decks and books, including The Enchanted Moon, Plants of Power, Moon Magick, and The Halloween Oracle. For over 25 years she has shared her gifts as a pagan practitioner and modern witch, teaching how spirituality can be used to solve modern day problems. In the guidebook, she writes:
Confession: I've even carefully put the small strip of paper holding the new cards together back on after each reading. This might be my subconscious way of trying to "tame" these forces, which is no easy feat, as many spiritual practitioners know.
"If we decide to seek or even engage with these unconscious aspects of ourselves, these darker shadows, these ill-formed, half-created, seemingly ugly monsters of our unconscious, perhaps we can refine them, perhaps even reshape them into something exquisitely useful and beautiful."1
The cards are divided into three types: dark, deep, and dangerous. The dark cards are filled with entities that reside in the darker places (Kali, Persephone, Anubis, Charon) while the deep cards are entities that reside deep within our psyche, the ocean, or other environments (Hydra, Selkie, Mermaid). My favorite ones are the dangerous cards that feature predatory entities that are often out to harm us, unless we attune our senses to the dangers at hand and heed their warning (Werewolf, Vampire, Medusa, Erinyes).
The guidebook provides a few ideas for spreads to use for the card, such as the Dark Moon Three-Card Draw and The Four Element Spread, along with guidance on how to tune in and pick the cards. Then for each card Demarco shares a paragraph-long oracle message, the dualistic qualities the card represents (ex. clarity/opaqueness or discipline/chaos), the mythos or story of the entity on the card, and finally, the plant and crystal companion. The oracle message might seem a little short, but I have found them so far to be very on-point for the questions I've asked. And I especially enjoy reading the background stories about all the dark, deep, and dangerous entities and the way Demarco relates them to modern life.
The cards are all numbered at the top and also state whether they fall into the deep, dark, or dangerous category. And on the card, there is a keyword provided at the bottom. Right below the keyword is the name of the entity featured on the card. The guidebook has all the cards listed numerically, which makes it quite easy to look up the oracle message.
As for the imagery on the cards, the illustrations by Kinga Britschgi perfectly capture the essence of each entity. Britschgi has a knack for detail that really brings each entity to life. The interplay of colors and shading make for eye-catching imagery. Some cards provoke a bit of fear, while others invoke a sense of wonder and awe, such as Kraken, featured to the right.
I enjoy how the visuals sometimes give me a little shiver and remind me of the power in connecting with these unconscious forces. I am reminded of the thrill of taking a walk on the wild side. Britschgi's images invoke the heightened sense of arousal that comes from letting the imagination linger in the darkness and depths, bringing to life what we might find in the shadows.
The card I pulled for today was Selkie. It is a depth card and the keyword is freedom. The duality is containment/freedom and pretense/authenticity. The oracle message encourages me to seek out my inner truth and embrace my authenticity, as that is ultimately the route to freedom.
This feels resonant with me, as I just made my first social media post in a while that detailed my inner journey of personal and emotional growth. It was scary to put myself out there instead of hiding behind the filters and hashtags, but sharing my feelings did indeed feel liberating. I take heart in Demarco's message of how the selkie can find their way back home after being lost in a realm not of their own. She writes:
"Eventually, the selkie finds her skin and is reunited with her authentic form. Without a backward glance, she steps into it, and allows herself to be enveloped by her true shape once again and re-enters the aquatic world."2
I just love how the mythos of the selkie is drawn upon to find meaning in my present circumstance. The entities in this deck really make one reflect on their own circumstance, delving into the parts of ourselves we keep tucked away, both consciously and unconsciously. Taking the time to go deep, embrace the darkness, and acknowledge the danger puts us in the position to discover new aspects of ourselves while also embracing shifts happening that are meant to steer us clear of potential downfalls.
All in all, Deep, Dark & Dangerous Oracle has quickly become one of my favorite decks. The card and messages ask you to be bold in acknowledging these entities. A whole world of exploration is opened if you have the courage to go beyond the realm of comfort. Facing what scares us the most is a great way to empower ourselves and discover just what we're capable of, and this deck is the perfect way to gently ease your way into the unknown. I highly encourage those seeking to add a bit of mystery and intensity to their readings to see what dark and dangerous things might be hiding in their depths. I bet you'll be surprised just how cathartic, transformative, and filled with beauty it can be to find out!

Alanna Kali is an astrologer, numerologist, and pioneer spirit that loves to explore life through the lens of depth psychology. She has a passion for studying the humanities and social trends. Her academic work is centered upon reuniting body, mind, and spirit through eco-psychology. She loves reading, spending time in nature, and travel.
References