Soul Medicine: Healing through Dream Incubation, Visions, Oracles, and Pilgrimage, by Edward Tick
Healing Arts Press, 164411089X, 288 pages, January 2023
In ancient Greece, the sick sought healing through dreams, and patients would retreat to sacred sanctuaries where they would pray and rest, waiting for the gods to intervene on their behalf and impart healing wisdom through oneiric visions. This "temple sleep,"1 also known as dream incubation, was practiced for two thousand years before the advent of modern medicine. Most contemporary physicians dismiss the power of the psyche to reveal cures through dream incubation, but a holistic practice that honors the patient's relationship with their inner self, combined with a Jungian approach to psychotherapy, bridges the gap between past and present, allowing the gods to reemerge in the present day as archetypal powers that can guide patients on their healing journeys.
In Soul Medicine: Healing Through Dream Incubation, Visions, Oracles, and Pilgrimage, poet and transformational psychotherapist Edward Tick, Ph.D. offers a soul-nourishing approach to healing trauma, informed by sixty years of studying the ancient Greek healing tradition. Dr. Tick has been working with Vietnam veterans since 1979, accompanying them on pilgrimages, returning with them to the place of trauma to retrieve their souls2, a topic he has explored in previous works, such as War and the Soul: Healing Our Nation's Veterans from Post-traumatic Stress Disorder (2005) and Warrior's Return: Restoring the Soul After War (2014). In Soul Medicine, Tick takes veterans to sacred sites in Greece, where they encounter the gods in healing dreams and visions. While he specializes in treating veterans with PTSD, his methods can be adopted by readers who are recovering from any form of trauma or those who are seeking to restore and deepen their connection with their inner selves.
As a psychotherapist, Tick is an "attendant of the soul."4 Just as the wounded healer Chiron learned to live with the emotional pain of being rejected by his mother as a child and from the incurable wound inflicted by one of Herakles's poisoned arrows as an adult, we must learn to accept and integrate our traumas. By identifying with archetypal powers, our own identities are enlarged and expanded, awakening us to universal truths greater than ourselves. 
In Tick's practice, he seeks to bridge the gap in medicine between science and spirituality with ancient healing wisdom. An atheistic, sterilized approach to healthcare is suffocating for those who crave communion with the Universe, yet modern psychology often labels magical thinking as a symptom of a mental disorder. Existential suffering is numbed by mass consumerism and pill-popping biochemical regulation instead of getting to the root cause. Medical practices devoid of spirituality have detached us from the World Soul, and the severance of the body-soul connection is deeply wounding on a collective level.
In Tick's mythopoetic approach to illness, he looks for the god within the disease. He found that his own lifelong history of back problems related to the Titan Atlas, who bears the weight of the world.5 An alcoholic may need to transform their relationship with Dionysos6, and a sex addict might find healing in devotion to Aphrodite, the goddess of love.7 Collective problems, such as a pandemic, may be a plague sent by Apollo to punish the hubris and irresponsibility of humanity.8
The healing process in Soul Medicine involves transmuting personal suffering and victimhood into universal wisdom that benefits the collective. When we understand what our personal trials and tribulations say about the human condition, we transcend our private pain and merge with the archetypal universe. Part of this requires affirming the inevitability of fate and surrendering to these cosmic powers.9 
 "Ananke [Necessity] indicates that we do not have a choice," Tick says. "What happened cannot be changed but only how we interpret, carry, and respond to it. These are ultimate conditions we are challenged to accept as ingredients of our personal mythic history. This is a necessary step in any healing enterprise, a step I call "affirmation of destiny." "10 
This fatalistic perspective might raise some hackles in a New Age community obsessed with personal power and accepting full responsibility for controlling one's own destiny, but it can be freeing for someone coping with feelings of powerlessness, shame, and guilt associated with past trauma. Unfortunately, the New Age fixation on personal power and the belief in manifesting one's reality through the Law of Attraction philosophy, which blames bad circumstances on negative thoughts, can be used to spiritually bypass and blame victims, instead of offering them the emotional support they need when recovering from trauma. For those who are tired of accepting personal responsibility for things beyond their control, Soul Medicine is a soothing balm.
Tick compares trauma to the mythical dismemberment of the god Dionysos, who was torn to pieces by the Titans. "Remembering what we have denied, buried, or forgotten is an act of being re-membered—put together in a new way,"11  Tick says. Dionysos is the god of theater, and watching or reenacting tragic plays can awaken our own repressed wounds and provide cathartic release, while also comforting us with the insight that we are not alone in our experience because tragedies explore universal themes of abuse, death, and grief.12 
In Soul Medicine, Tick shares beautifully written anecdotes about pilgrimages to sacred sites and the divine revelations he has experienced at them, coupled with signs and synchronicities, taking the form of earthly messengers of the gods such as crows, butterflies, bulls, and shed snakeskin. He writes about moments of divine inspiration with poetic grace.
During a pilgrimage to the Oracle of Delphi, Tick had "an imaginal conversation with Apollo."13
"Apollo, the god of the inner light, consciousness, and reason," he says, "spoke as the voice of my knowing deep mind."14
Tick professed doubts about who he was and what he should be doing with his life, and rather than clarifying his purpose, his inner Apollo replied, "You already know."15
He was losing sight of his personal path and not embracing it because he was distracted by external human affairs. In fulfilling one's soul purpose, Tick says, "It is our human task to remain committed against barriers and disappointments."16 The gods will assist us in mysterious ways, but they will also test our faith and our worthiness.
When Tick asked what he was doing wrong, his inner Apollo replied, "Continue as you are…Nothing is wrong."17  As if to confirm this telepathic conversation was a true divine message, a black cloud of crows, the messengers of Apollo, circled around Tick as he ascended to Apollo's temple.
This touching message resonated with me because there have been many times when I have struggled with my own self-doubt and despair over not knowing my place in this world, then heard a reassuring voice inside my mind whispering the same words to me: Nothing is wrong with you.
This passage also reminded me of a dream I had about a year ago, in which an unseen female deity, who I believed to be Artemis, had instructed me to honor Apollo. I was guided to sit outside at dawn, facing the east, bathed in the rosy pink light of the golden hour, and burn a bay leaf, while praying to him and savoring the sweet smoke. As the burning leaf crackled, I found myself sitting in front of a bronze statue of Apollo reclining on a couch, and his posture reminded me of his half-brother Dionysos, the god of ecstasy and madness who counterbalances his logic and reason. I sensed that Dionysos was with me as well, though invisible, creeping around the edge of my awareness like a serpentine vine. I realized that calling on one of them also summons the other, for they are as light and shadow, and two sides of the same coin.
I have always felt an affinity with Dionysos, and I apologized to Apollo for not being moved to honor him sooner. I sensed Apollo's presence as aloof and haughty and knew that calling him beautiful would appeal to his vanity. Upon waking this reminded me of the arrogance ascribed to Lucifer, and how self-knowledge is demonized as narcissism. When the sun rose, I grabbed a lighter and a bay leaf from my kitchen cabinet, went outside, and recited the Orphic Hymn to Apollo, which calls him Bacchos, identifying him with his half-brother Dionysos.18 It felt important to me that I reenact the dream in waking life to reaffirm the act of devotion I had taken on the astral plane. 
Soul Medicine has reminded me yet again that I need to remember to honor my inner Apollo and trust in his wisdom. We are all his oracles, if we choose to listen.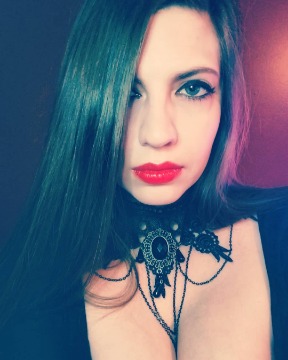 Rachel Christina McConnell is a witch, tarot reader, intuitive astrologer, and writing spider. She holds an MFA in Fiction from Columbia University in the City of New York. Her short stories have appeared in Dark Moon Lilith Press and Minerva Rising Press's The Keeping Room. Links to her publications are available here: https://rachelchristinamcconnell.wordpress.com
References