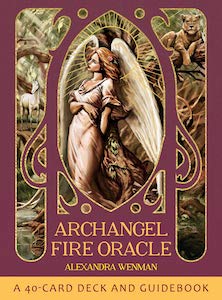 Archangel Fire Oracle, by Alexandra Wenman and illustrated by Aveliya Savina
Findhorn Press, 1644112787, 40 cards, 144 pages, April 2021
I love angels. Communicating with angels was one of my earliest spiritual experiences. As I continued to connect with angels through books and decks, I discovered sometimes angelic wisdom gets locked in New-Age conventionality and trappings. When I started to explore esotericism and discovered the work of John Dee, I realized there was a magical art to communicating with angels. Sigils became an important part of my work with angels. Since then I've been trying to rediscover the relationship between angels and alchemy.
Archangel Fire Oracle by Alexandra Wenman is a true delight to discover for this reason. It goes beyond the positive, affirming messages of other angel oracle decks, connecting the reader with the genuine essence of each angel. The deck is a blend of color healing, alchemy, and angelic knowledge intended to facilitate awakening in the readers. In addition to learning more about each archangel, Women guides readers to tap into the most divine aspects of themselves through the meditations and exercises that facilitate spiritual awareness, transformation, and a deeper connection to the angelic realm.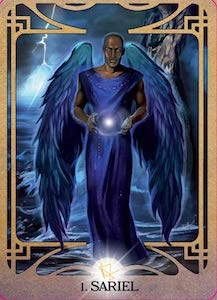 There are forty archangel cards in this deck. The archangels are grouped in seventeen suits, each based on a healing color ray or sacred flame. I really enjoy visually seeing the archangels through these different color prisms. It adds a visual connection to each angel, as well as helps to identify archangels that are similar in energy.
The cards themselves are beautiful and some of the best depictions of the archangels I've ever seen. It's very clear the illustrator of this deck, Aveliya Savina, had a strong relationship with the angelic realm and a very intuitive understanding of these energies. There is tons of symbolism in the deck, from animals to flowers, that infuse the cards with meaning. All the elements are represented (fire, air, earth, and water), as well as connections to the solar system and earth. There's also some mythical energy that opens the reader's consciousness to different realms.
I have so many favorite images in the deck that it's hard to choose one. For instance, Rikbeil (11) is shown almost wearing a space suit with sweeping pink wings engulfing his body. Then there's UFO-like flying saucers in the corner of the cards. It's neat because the cards aren't pushing alien-angel connection or anything (I'm so leery of that!), but it is an innovative, modern display of the resonate energetic meaning of the card, which reads:
"Rikbiel is known as the "Chief of the Divine Chariot: – the Merkabah. This Cherubim is said to be the "Power of Love" and he helps us to recognize the incredible power of having loving thoughts. A harmonizing angel, who can influence centrifugal force and find the most loving point between two opposing forces, Rikbiel is especially helpful to call on when working in group situations. Rikbie maintains co-operation and promotes open communication. Like the cosmic diplomat in his oracle card, he shows us that when a group strives towards a common goal based in integrity, they can achieve great things."1
But while Rikbiel has a cosmic unifier vibe, other cards, such as Asariel (22) have aqueous energy. In this card, Asariel is portrayed with a seashell crown, holding a trident. There's a hermit crab and treasure chest at her feet, while dolphins and an orca whale leap in the background. I've loved gazing at it and inviting the marine energy into my aura. The guidebook explains how she calls us to move with flow, trusting our intuition and dreams.
This deck just really stands apart from others due to the masterful artistry, which is relatable and ignites the imagination, prompting readers to understand the archangel's energy in a way that goes beyond traditional interpretations of them. Savina's artwork is perfect for contemplation, meditation, and using the cards on an altar, which is what I've been doing most frequently.
The guidebook is phenomenal too! For each of the seventeen suits, Wenman provides the corresponding chakra, crystals, essential oils, magical sigils, and star system. This information alone was worth having the deck for because it opens up so many doors for connecting with each angel. I've always been very interested in the relationship between constellations and the angels, and this guidebook has been extremely useful for exploring this.
For every archangel, there is an overall description of their essence, a message from them (a quote of guidance, guidance on how to meet the archangel in the energetic realm through visualization, guidance for diamond fire alchemy with the archangel, and a section on becoming the angel (invoking their energy).
What I love about this wealth of wisdom is that it's suitable for all levels. Beginners will be content to receive a message from the archangels and learn a bit about their energy. Those who are ready to experience the healing of the archangel might want to do the visualization to meet them or the diamond fire alchemy for spiritual healing or transformation. Then for those who feel experienced enough to invoke the archangel, the final section is very useful in how to embody the energy of the archangel.
While the techniques and exercise require a bit of a time or energetic investment on behalf of the reader, they are truly powerful. As I mentioned, I've been very interested in learning more about the archangels, their sigils, and their relationship to the constellations. But Wenman's guide book helps to take my explorations to a new level through the visualizations and invocation exercises. It's so useful to have guidance about how to connect with the angels in this way, rather than just having to trace sigils out of an old grimoire I found in PDF form.
Overall, Archangel Fire Oracle is the most authentic angel oracle deck that I've come across thus far. Wenman and Savina have successfully channeled the archangels into imagery and a guidebook that is relatable, easy to use, and most of all, soul-stirring. The archangels have been liberated from outdated forms and antiquated definitions of their energy. In this deck, the archangels' essences shine through, opening readers into a current of love, peace, and spiritual transformation.

Alanna Kali is an astrologer, numerologist, and pioneer spirit that loves to explore life through the lens of depth psychology. She has a passion for studying the humanities and social trends. Her academic work is centered upon reuniting body, mind, and spirit through eco-psychology. She loves reading, spending time in nature, and travel.
References