Mystical Vampire: The Life and Works of Mabel Collins, by Kim Farnell
Mandrake, 1869928858, 240 pages, June 2005
There's something about exploring the past through a biography that takes you on a stimulating journey. While nonfiction is entertaining, I've always enjoyed being immersed in the ups and downs of a person's life and reading about the way things unfolded for them. Recently, I've been extremely into reading about occultists of the past — it's as though these older texts are now my illumination for a future path. Spiritualism and Theosophy have been front and center in my current studies, but I've been seeking more beyond just the popularized figures, such as Helena Petrovna Blavatsky (HPB). Therefore, I was absolutely delighted to read Mystical Vampire: The Life and Works of Mabel Collins by Kim Farnell.
Mabel Collins, who lived from 1851 to 1927, was quite a dynamic woman, especially for living in England during the Victorian era. From being a popular novel writer to a well known Theosophist (for a time!), Collins made her mark on the occultists of this time period. Her story The Blossom and the Fruit was an influence on the young Aleister Crowley, and she personally organized and edited HPB's The Secret Doctrine. She even potentially dated Jack the Ripper, who ravaged London committing gruesome murders of women!

In this book, Farnell has done a brilliant job piecing together information to gift readers with a well-sourced biography detailing the escapades of Collins' extraordinary life. I can only imagine the research Farnell put into writing this because it is so well-rounded, as though she saw all the possible questions a reader might have and filled in the gaps to precede them before they arise. This is most evident in the way she describes the historical background, providing ample context for what it was like in this time-period, to draw the reader fully into an engrossing experience. One is able to slip out of modernity and step right into this era, feeling as though they are within the dynamics of the Theosophists at the time.
And oh goddess, it is thrilling to read about the drama, gossip, and relationships among the "who's who" in Theosophy at the time. The cast of characters that passed through Collins' life include William Butler Yeats, Annie Besant, Robert Donston Stephenson, who she believed to be Jack the Ripper, and a very influential relationship with HPB. It's one thing to read a biography about HPB, the founder of the Theosophical Society – who was supposedly the most "enlightened" and connected to the ascended masters – but it's an entirely different experience to hear about her from Collins' point of view, who in many ways was a foil for HPB, though still an ardent supporter and collaborator.
For a time, Collins hosted HPB at her home and attended to the variety of guests that came calling. Eventually, Collins and HPB even worked together to create the magazine Lucifer, which ran from 1889 to 1897. However, HPB ultimately expelled Collins from the Theosophical Society, citing improper sexual conduct, or more specifically, black magic Tantric rituals. Also documented in great detail by Farnell is Collins' writing of Light on the Path, which is the book she is most well-known for among Theosophists, and the ultimate fall out between her and HPB in regard to the source of this channeled book. And I'm only giving you the basic lowdown of this all because my mind is still reeling from all that Farnell has shared in Mystic Vampire, and what I've included thus far is hardly the whole of Collins' life.
What I am most excited about now that I've finished reading the book is going back through my multiple sticky tabs of reference to further research the writings of others during this time. For instance, right now on my desktop I have a downloaded PDF of Geometrical Psychology or The Science of Representation: An Abstract of the Theories and Diagrams of B.W. Betts by Louisa S. Cook, who was Collins' sister-in-law. Additionally, I have found PDF copies of Collins' Light on the Path, Idyll of the White Lotus, and The Blossom and the Fruit. Now that I've read her story, I am eager to delve into her writing.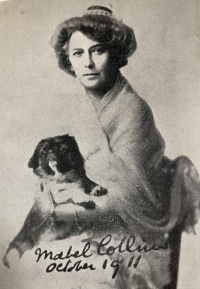 Like I said, I've been very into researching prior occult texts recently because there is something rich about what was going on during this time with the rise of Spiritualism and then later Theosophy. Luckily, Farnell has provided detailed references for all the information in the book with a very thorough list of footnotes and pages of sources, including books, periodicals, and online sites. I always deeply appreciate this level of scholarship and the way it aids me in discovering new things to read, research, and explore.
I feel like I've gotten to know Collins through this biography, and I can say she definitely has become one of my spiritual role models. Her role in Theosophy has been overshadowed by more popular names, but she contributed much to the movement, while also succeeding in other areas of life as well, such as writing romantic fiction and fashion columns for decades. Given the Victorian time period, her ambition is all the more impressive. Farnell has done an exquisite service in writing this book and keeping her memory alive.
Mystic Vampire is a must-read for anyone interested in occult history and seeking to learn more about the happenings in the late 19th century. Collins seems to me a feminist icon in her own right, dabbling in the occult arts and making her way in the world through her writing and activism. Farnell has brought her back to life in these pages, reclaiming her legacy and opening a channel for her spirit to carry on into the 21st century. Due to Farnell's diligent research and writing, over a hundred years beyond her lifetime, Collins continues to inspire and guide those on a spiritual path.

Alanna Kali is an astrologer, numerologist, and pioneer spirit that loves to explore life through the lens of depth psychology. She has a passion for studying the humanities and social trends. Her academic work is centered upon reuniting body, mind, and spirit through eco-psychology. She loves reading, spending time in nature, and travel.