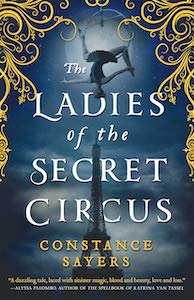 The Ladies of the Secret Circus, by Constance Sayer
Redhook, 0316493678, 464 pages, March 2021
I'll admit it.. I've been very into magical circus books this summer (see my review for Bacchanal). When I found the Ladies of the Secret Circus by Constance Sayer in the recently published section of my library, I was delighted to once again be immersed in the enchantment that springs forth from the unique energy of circus life. However, while the plot was decent, this book didn't stand out as a must-read for me. Overall, it was an interesting story, but written with too many plot gaps and a clear indication the writer does not have much experience working magic in the real world.
The overall premise is that on the day of her wedding, Lara Barnes's fiancé, Todd, goes missing. Yes, they've had an on-again-off-again relationship for quite some time, including him being with other women, but the disappearance is a shock to the small town. While Kerrigan Falls is known for its lack of crime, an eerily similar disappearance happened 30 years prior to the day, when another handsome, young, beloved man named Peter went missing in the midst of his aspiring musical career.
Lara is absolutely devastated by the loss of her love, but can sense there's something more to the story. She has learned how to do simple magic, or "corrections", as she calls them. For instance, she alters her wedding dress to better fit her taste that day, though she's aware the illusion will only hold as long as she maintains concentration. She inherited this power from her mother, Audrey, who chose a normal life, hiding her magic from everyone, including her ex-husband Jason.
In the months following Todd's disappearance, Lara distracts herself by purchasing a local radio station and putting work into her fixer-upper home. She does her best to avoid media attention and rumors about what might have occurred, as she's in her own personal state of mourning the loss of her beloved. Though, this doesn't stop her from forming a romantic relationship with the local sheriff, Ben, who is a bit out of his league with such a big case in his small town. What begins with him giving her updates on the case, blossoms into a friendship, which turns into a budding romance.
As a supportive mother, Audrey is trying to lift her daughter's spirits. Together, they attend the Rivoli circus, as the owners are long-time friends from the days when their family ran a circus. Audrey's mother had decided to give up the circus, after going mad from her magical powers and no longer being able to maintain it. While at the circus, Lara has an unusual encounter with a fortune teller, where she is gifted with the diaries of her great-grandmother Cecil Cabot.
Reading the journals, Lara learns her great-grandmother was part of Le Cirque Secret, also known as the dark circus. Suddenly, all she's known is turned upside down. As she tries to figure out the deeper truth, Lara recalls visits from a mysterious man as a child who had told her Todd was not her destiny. When he appears again following Lara reading the diaries with a proposition for Lara, inviting her to come to Paris, as he needs her help, in exchange for information about Todd and her family secrets, she decides to go ahead.
From this point on in the story, it becomes a dual narrative of Lara's experience and that of her great-grandmother Cecil's experience in Le Cirque Secret. While Lara's story is boring white-bread suburban living, Cecil's life is filled with romance, passion, and magic of 19th-century Paris and circus performances.
Cecil and her twin, Esme, were the children of one of the most notorious demons in the underworld, Althacazur, who is a favorite of Lucifer. When his wife passes away, he needs a home for his daughters, thus he creates Le Cirque Secret (which also is a good way for him to reel in those who are more eager to sell their souls to him in exchange for what they desire — truly a win-win). Known for her cunning charm and quick temper, Lara soon realizes this man is her great-great-grandfather, and her family's origin is much darker than she ever imagined.
What's especially enticing about Le Cirque Secret is that only those with a ticket can see the entrance, which pops up in the middle of an open, vacant spot in the town it's performing in. Since it's run by demons, who were essentially hand-picked by Althacazur in order to entertain and babysit his kids, this is no usual circus. All the performers are trapped, fulfilling the contracts they've made with demons for the rest of eternity. Nevertheless, there is an element of kinship among them.
Cecil and Esme, despite being twins, are often at odds with each other. Their good friend Slyvie tends to pick sides among them, but she also helps to smooth out the tensions. Oddly, Cecil has no memories prior to her 11th birthday blowing out candles. She can't recall their early childhood, though Esme can and mocks Cecil for her weakness, as she's also the only person in the circus that does not have a performance routine.
When Cecil grows weary of her sister's taunts, she asks father about her lost memories and shares what Esme had told her. This prompts a swift and ruthless punishment for Esme, which changes her forever. From then on, all love has been lost between the sisters. However, Cecil finally finds her own strength and becomes an aerial performer. She learns that she can do more than swing from the bars as an acrobat. Cecil can actually fly through air with her magic, dazzling and astounding audiences.
During a night on the town after a circus performance, Cecil meets painter Emile Gradeux. They have an instant connection, sparking young love in the heart of Paris. Esme has usually been the one to go for painters, tormenting them by allowing her portrait to be painted, knowing it will vanish by morning, as it's impossible to capture Cecil or Esme's likeness. There's something about Emile though that opens Cecil's heart to happiness and love, and she continues to develop her relationship with them.
Surprisingly, Althacazur takes an interest in Emile and offers him the chance to do three paintings of the circus: one of Slyvie, one of Cecil, and one of Esme. Cecil and Esme's intense rivalry is fueled by their common romantic interest in painter Emile. Ultimately, many relationships are destroyed, with consequences that are still impacting Lara in modern-day.
Swept away in the elegance of 19th-century Paris, these diary entries are definitely the best part of the book. Intermixed with characters such as Mann Ray, Pablo Picassion, and Ernest Hemmingway, the creative spirit comes alive amid the chaos of the circus. It's easy to get caught-up in the glamour and romance
On her mission to learn more about her family's past, Lara discovers more paintings in Paris, as well as a fellow Le Cirque Secret enthusiast, Tedd Barthlow-Bentham, a friend of Gaston, the local portrait framer and art enthusiast of Kerrigan Falls who has accompanied her. When Lara goes missing, Ben comes rushing to her rescue. Eventually, all the pieces come together for what is intended to be a surprising end. Though, if you've been reading between the lines, it's easy to spot it coming.
So, overall the book has an appealing plot and it does keep the reader engaged to an extent. The major drawbacks to the book that irked me as a reader was the flow of the plot, which seemed a bit jerky. Sayer jumps from here to there with little transition, which makes it not as an appealing read. I sometimes didn't know how things progressed as rapidly as they did in a very short time-frame.
Then, and I think this was my biggest problem with the book, Lara was not a very relatable character. Basic doesn't even begin to describe her. It's almost as if she was devoid of deeper emotional feelings. She was very one-dimensional, and most of the time she's simply confused about what's going on in her life. The romances between both Todd and Ben seem superficial, and she doesn't really strike me as someone with a genuine range of emotion, which made me feel she was a bit annoying as a protagonist.
This was interesting because it wasn't that Sayers couldn't write a better character; Cecil and Esme have passion, depth, and self-awareness. And as I already said, the parts of the book focused on these characters in Paris were certainly the best. Lara just simply seems naive, selfish, and a bit aloof, not allowing for an emotional connection to be made with her, which as a reader I enjoy having with a main character.
Then my other peeve about the book was that the magic described is the kind of "wave your hand and something happens magic". It came naturally to all of the characters because of their demonic origins. Therefore, it almost seems taken for granted. Yes, it was neat reading about their powers and their journey to master it. But most of the time, especially with Lara and Audrey, the magic was used to simply enchant life and make it a little better, rather than actually doing anything substantial. It's mostly all glamour magic.
Plus, the portrayal of the demonic realm was very glossed over and prettily packaged. There was the usual allusion to great people, such as Mussolini, who sold their sold to the devil, or in this case a demon. While Sayers tries to depict the cost of their deal, such as permanent abuse based on the whims of Althacazur, one again, there seem to be little self-reflection or self-awareness on the part of these side characters damned to Hell's circus forever. The book definitely didn't weight the pros and cons of selling one's soul in the way The Invisible Life of Addie LaRue by V.E. Schwab captured (a book I do highly recommend!).
All in all, The Ladies of the Secret Circus was a unique plot and memorable for its originality, but it could have been written a bit better. It's most redeeming aspect is Sayer's portrayal 19th-century Paris. Otherwise, it's a watered-down stunted romance of a confused character trying to figure out her family's history, drawing the reader into some very superficial aspects of the demonic realm. For those who are looking for a decent book to read, filled with enough mystery and intrigue to keep you occupied, this is an all right selection. It probably will not be a life-changing read, but it might be worth delving into once.

Alanna Kali is an astrologer, numerologist, and pioneer spirit that loves to explore life through the lens of depth psychology. She has a passion for studying the humanities and social trends. Her academic work is centered upon reuniting body, mind, and spirit through eco-psychology. She loves reading, spending time in nature, and travel.