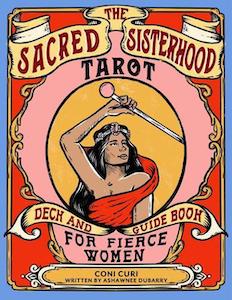 The Sacred Sisterhood Tarot: Deck and Guidebook for Fierce Women, by Ashawnee DuBarry with illustrations by Coni Curi
Red Wheel, 1590035259, 80 pages, 78 cards, October 2021
Despite tarot reading becoming a booming trend in recent years, few readers seem to be discussing the esoteric foundation of the common Rider-Waite-Smith (RWS) deck. Essentially, the RWS deck is steeped in tradition of the Hermetic Order of the Golden Dawn, which drew from the Qabalah, astrology, numerology, Christian mysticism, Hermeticism, the religion of Ancient Egypt, Freemasonry, Alchemy, Theosophy, Enochian magic, and Renaissance grimoires. Talk about overload!
As a seasoned tarot reader and energy worker, I've been on a mission to find tarot decks with a different energy for my readings. The Sacred Sisterhood Tarot: Deck and Guidebook for Fierce Women by Ashawnee DuBarry has been so immensely rewarding to discover. A deck that isn't steeped in occult traditions that I don't practice NOR a patriarchal framework? Yes yes yes! This is what The Scared Sister Tarot offers.The energy feels so deeply resonant with my spirit, and the good vibes of this deck have been shining through in all my readings so far.
The box for this deck is hefty, and I love it. Looking at the image on the box makes me feel ready to take on the world. I love that there's some weight to the deck. Yet, the cards themselves are the perfect fit for one's hands. Measurements aren't really my thing, but I would say they're a little taller than normal play cards yet a bit more narrow in width. Basically, they fit in my hands perfectly and make it really easy to shuffle.
Opening the box is a color-pop of oranges, yellow, red, and light brown tones that make the cards feel infused with solar energy but also grounded. The back of the cards have lovely, luscious pomegranates on them, which is the perfect representation of Divine Feminine energy, as they are known for being a symbol of fertility and abundance.
Illustrator Coni Curi has done a marvelous job featuring a multitude of women in this deck. As you go through the cards, it becomes evident there's one "no size fits all" model for women. This concept is bolstered by the intent of the deck to tap into the different facets of Divine Feminine wisdom, through both the major arcana and different suits of the minor arcana.
"The Sacred Sisterhood deck was created with inclusivity in mind, from trans folk to cis-gender- all are welcome, unlike the original tarot, which centered its images and descriptions around hte old gender roles. True sisterhood is all about coming together in a sacred space to support one another, no matter how  you identify."1
The representation in the deck is remarkable. From multiracial relationships between women to women with disabilities, vast identities and body types are portrayed. And this diversity imbues the deck with a feeling of empowering solidarity, as though I want to see "I see you! I know we're all out here doing our best, learning what it means to embody this Divine Feminine feeling in our life." It's beautiful because it feels so REAL. This is what womanhood looks like, and it comes in so many shapes, sizes, shades, and orientations, which is something worth celebrating.
While there is plenty of symbolism for each card, Curi didn't stick to the traditional tarot imagery. I enjoy the modern take on the cards' meaning and alternative representation to the traditional RWS tarot. One of my favorites is the Judgment card that has a winged angel playing a saxophone as two women dance beneath her. 
There's a simplicity to the cards too. Each card has a solid-color background that emphasizes the main image on the card. This makes it so the reader isn't lost in detail and can easily connect with the image that is popping out to represent the card.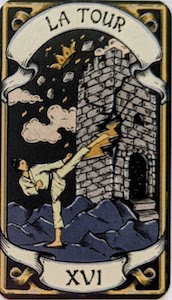 Additionally, the emotion of the women featured on the cards is also something that makes this deck unique. Curi has clearly conveyed sadness, discontentment, happiness, and sovereignty. The women of the deck help to connect with the many emotions of life, tapping the reader into their own feelings. Beginner, intermediate, and expert readers all will be able to find meaning and resonance with the imagery of the deck.
Though, I will mention the one thing that threw me off a little at first: the card names are written in French! For instance, The World is called Le Monde and the Ace of Pentacles is called As De Deniers. Luckily, from the imagery and general knowledge of romance languages, I've been able to figure out what each card is, but it definitely was a stumbling block that  made initial reading not feel as intuitive as it might with a deck in English. Now that I've been reading with this deck though, I feel pretty cool for knowing the French name for these cards though!
Plus, the guidebook is a huge help for understanding the card's meaning. I love it so much!! I think it's one of the best guidebooks I've ever seen. It's large, easy to read, and very colorful. DuBarry offers a complete guide to working with the deck, including tips for getting to know the deck, shuffling, and doing readings. What I liked most though is the suggestions for how to use the deck aside from just doing readings, which included things such as candle magic and shadow work. There's also plenty of spreads to use with each card position thoroughly detailed.
The cards' messages are all very meaningful. DeBarry clearly conveys each card's essence through their interpretation. For every card there are keywords and meanings for the card upright and reversed, plus the best thing about this guidebook, which is the answer for yes/no questions.
HALLELUJAH! This yes or no meaning guide has been so incredibly useful. You often hear the advice to shy away from yes/no tarot questions, but so often I just want some quick insight about if I should do something or not, and this guidebook is perfect for those questions!! I so very much appreciate this being shared.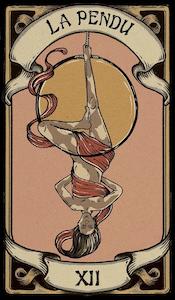 Moving through each definition, DeBarry strips away traditional meanings of each card, so that readers can see the card's energy through the lens of the Divine Feminine. I especially loved the card and message for The Hanged Woman, traditionally The Hanged Man, which reads:
"Take some time out, as this will give you the space you need to pause for a moment and analyze what may need to be released for the sake of growth. The Hanged Women can also represent a person who looks at life in her own way, not allowing herself to be influenced by the actions or opinions of other people."2
I've been reading tarot for over a deck, but this was the first time I identified personally with the card. Why had I never thought to view it as The Hanged Women? It's like this simple shift of making it so I felt seen within the card completely changed the way I identified with it.
The Sacred Sisterhood Tarot has become my go-to for both quick questions and more reflective readings. Reaching out for the deck has started to feel like calling up my bestie to talk about life. There's a gentleness to the deck, though it has consistently given me the honest advice I needed to hear in the moment. I trust it because I feel it has my best intentions at heart.
Plus, reading or meditating with this deck taps me into an empowered sisterhood solidarity, and I love envisioning other women also using it, pooling our collective Divine Feminine wisdom for healing, divination, and spiritual growth.  I highly recommend this deck for beginners, as it is perfect for getting to know the cards (with maybe the exception of the French! Lol), as well as intermediate to expert readers that are looking for a new way to explore the energy of tarot.

Alanna Kali is an astrologer, numerologist, and pioneer spirit that loves to explore life through the lens of depth psychology. She has a passion for studying the humanities and social trends. Her academic work is centered upon reuniting body, mind, and spirit through eco-psychology. She loves reading, spending time in nature, and travel.
References