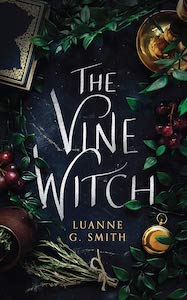 The Vine Witch (The Vine Witch #1), by Luanna G. Smith
47North, 1542008387, 268 pages, October 2019
One of my favorite books that I read this summer was The Vine Witch by Luanna G. Smith. You can only imagine my delight in discovering that it was the first of three books in a series! For two marvelous weeks, I was wrapped up in the drama, intrigue, romance, and excitement of these novels. I considered writing a review of each separately, but then decided to write about them side by side. I can hardly imagine one would enjoy The Vine Witch and not want to continue on with the rest of the series.
As much as I enjoy a brand-new book, I also am thrilled when I discover a fully published series that lets me jump right from one book to the next with no wait time! While the latest book in the series, The Conjurer, was released in 2021, The Glamourist was published in 2020 and The Vine Witch in 2019. I highly recommend reading them in order of publication date, which is easy to do now that they're all released.
They stories definitely build upon one another, and it's adds a lot to the newer books already knowing the full backstory. All the characters are introduced in The Vine Witch, and the following two novels expand on the past of two characters, continuing to reveal how the three magical women's fate is intertwined. Their unique friendship evolves as the women overcome enemies, personal challenges, and twists of fate that captivate the imagination, perfectly blending in magic, mystery, and mayhem.
Now.. onto the good stuff!
Set in the charming Chanceaux Valley, The Vine Witch delves into the story of Elena Boureanu, who has just returned to her human form after spending seven years as a toad due to a curse put on her. It was only her skilled knowledge of poisons that helped her break the curse, gruesomely by eating her shedding toad skin, which contained a specific chemical that was able to alter the effects of the spell. Still haunted by her amphibious time, Elena is eager to get revenge on the person she knows must have put this spell on her: Bastien Du Monde, her former fiance.
Elena returns to her home, Château Renard, and happily reunites with her dear Grandmere, Unfortunately during Elena's time as a toad, her grandmother was not able to maintain the vineyard or its finances, leading her to sell it to Jean-Paul Martel, a budding vigneron. So far, Jean-Paul hasn't had much luck with his crop, but he is intent on applying his scientific knowledge to bring the fields back to life.
Despite the rocky start they get off to upon meeting, Jean-Paul allows Elena to stay at Château Renard for the time being. Elena, who feels deeply intertwined with the vineyard is glad to be back, but also is keenly away from a spell lingering over the fields, which is contributing to the bad harvests. She's eager to use her magic to lift the curses, but knows she must hide her magic from Jean-Paul, who denounces the superstitions of vine witches in the valley.
Meanwhile, Bastien and his new wife are on a mission to buy up the land in the area to expand their own wine-making business, which has become exceedingly popular during the time Elena was gone. For a while Elena hides her presence, not wanting Bastien to know she's back for revenge, but eventually her identity is revealed, shocking even Elena as she uncovered the truth about her past.
As Elena comes to terms with her powers and grapples with her sparking romance with Jean-Paul, who is opening up to her supernatural world, she also must contend with the evil force that wants to do her in. When a surprising death lands Elena in magical jail, she becomes acquainted with Yvette, a rough and tumble young woman, and Sidra, a jinni. All three women have been accused of murder, but there is also their side of the story that is not give a voice. Their break-out links them together, leading to a bond that will continue to be called upon for the rest of the series.
I won't go further, as to not give spoilers, but from a magical perspective here are some of the things that I loved about the book. First of all, Smith really makes this magic feel real. While some of the magic is extraordinary, it's grounded in magical theory and practice. For instance, Elena must take time to reunite with her magical tools and slowly regain her strength after coming back from the curse. There are limits to her powers and this prevents a sense of all-consuming, omnipotent magic dominating the story; it's realistic.
Additionally, the magic she does is deeply tied to the land, the vines, the animals, and her home, which I believe many witches can relate to in their own lives. Gardens, hillsides, rivers, and streams all become sacred places of power; nature and the elements are the foundation of witchcraft. You get a sense of this as you read, and it inspires one to reconnect with their landscape.
Plus, I found the concept of a vine witch to be fascinating, and it did leave me to wonder if this was ever a real thing. There was a sensuality about her connection to the wine, and the magic felt palpable, as though I could taste it as I read.
Another aspect that I really enjoyed was a local baking witch, whose pastries pointed the way to one's true love based on their flavors. I enjoyed that there was an exploration of other types of witches, beyond the vine witches, all mixed into the story. It made the story feel imbued with sorcery, as the mundane world thrived without even realizing all the small charms and magical world around it.
I highly recommend The Vine Witch to anyone who enjoys supernatural fiction. As far as books about witches go, this is definitely one of my top five favorites. Smith has done a wonderful job of bringing to life the magic in the mundane. From cooking to gardening, this book will inspire you to include a few spells of your own in the daily routine.

Alanna Kali is an astrologer, numerologist, and pioneer spirit that loves to explore life through the lens of depth psychology. She has a passion for studying the humanities and social trends. Her academic work is centered upon reuniting body, mind, and spirit through eco-psychology. She loves reading, spending time in nature, and travel.