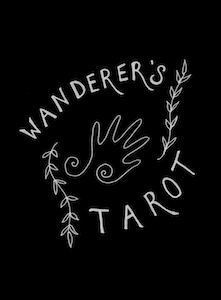 The Wanderer's Tarot, by Casey Zabala
Weiser Books, 1578637597, November 2021
There is room for everyone to improve in life, but sometimes we don't know where to start. The Wanderer's Tarot by Casey Zabala appears to be an amazing jumping-off point for this particular activity; only time will tell, and I doubt time will prove this observation wrong. Casey Zabala is a creator after my own heart, believing in divination as a means of healing self-discovery and personal empowerment. Her deck, The Wanderer's Tarot, is a tool I will be keeping in rotation for a long time.
This box is just superb! The design is simple, but the sleek all black design with white text is inviting. The artwork present is barebones, but alluring. The picture on the back made me immediately paw through the cards to see which card art inspired it (it's the Wanderer of Stones).
The spine is completely blank: there's no name, no doodles, just black inky nothingness, which I only see as an issue if you display your decks on a shelf of any kind with spines facing out. But then again, you could resolve this issue with a sticky tab or, dare I say, writing on the box yourself! The opening mechanism is a hinge style clam-like lid. Now, I wouldn't go shaking it about, but it stays quite secure. I would trust this box to protect the cards on the go if you take a deck with you.
Now onto the cards themselves. The card stock is great. They have a good amount of give without feeling thin and aren't obnoxiously thick, I have small hands so card sizing is very important to me in a deck. If I can't shuffle the deck, I'm less likely to use it and will then feel bad about neglecting it.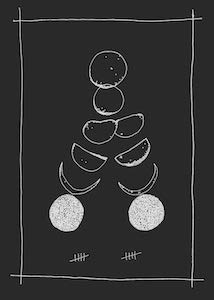 The cards were thankfully held together not by plastic but rather by a simple black paper band that I was able to slide back on after removing if I was careful… up until the point where I stepped on the band like a goofus. Off topic, so let's get back on track with the edges of these bad boys. They are so shiny! I have in the past gone out of my way to color the edges of some of my other decks, but these cards came pre-treated with a shiny silver, and I am in love to a degree.
On flip through, the cards stuck together much more than usual, and my hands came away with a faint dusting of silver the first few times of handling. This silver is a gorgeous contrast to the solid black background of these cards. The backs lend themselves well to reading reversals. The circle in the middle with lines radiating off of it gives me "light at the end of the tunnel" vibes, and I like that a lot. These cards are a bit wider than your standard deck but it is still very shuffle-able.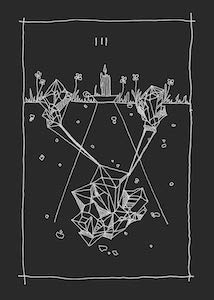 Reading with these cards is a bit tricky though. The numbering for both the majors and the minors are not consistently placed, so I find myself looking for the numbers or names on some cards. I do, however, appreciate that the majors don't use the traditional roman numerals and the minors are denoted by tally marks only.
It makes you think a little when doing a reading, and that's kind of the whole point of the deck: diving deeper into the mind and self to better your existence. The minor arcana is drawn in a very pip like style which, in my mind, would prove a bit hard for a new reader to understand as there isn't any of the traditional RWS context images to help them out.
We're gonna talk about that smell now. This is my biggest problem with this deck. Trying to riffle shuffle them the first time made it more obvious than when just holding it. If smells trigger any issues of yours, let these cards air out. Set them on a window sill or a table spread out for a few days, otherwise you will not have a fun time. Do the same with the box, leave it open before storing them.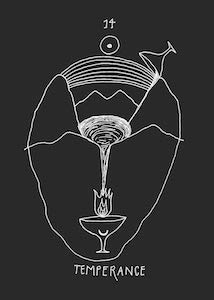 Enough tough talk, let's look at the guidebook. The book isn't so much a book as it is a pamphlet with quick info on the cards. Zabala makes it pretty clear that we're supposed to sit with these cards and come up with our own personal meanings and really suss out how these cards make us feel when they come up, rather than treat the guide like it's some kind of god.
Our major arcana cards get a few keywords apiece, which is pretty standard fare. The minor arcana got an interesting treatment though. The only bits that get any kind of in-depth meaning is the suits and court cards, as they were changed for this deck. Pentacles are now Stones, Swords are Knives, Wands to Feathers, and Cups to Moons. There is a short explanation of each of the suits on their own panel.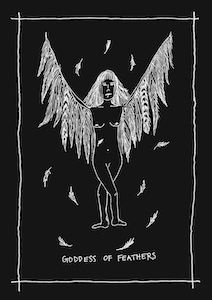 But the truly interesting part is how the numbered minor arcana are treated. We get a numerology cheat sheet of sorts that we have to pair with the traits of the suits to get our meaning. The courts are a bit tricky; they feel like their own entity completely divorced from the RWS courts. I couldn't figure out a one-to-one correspondence, so here they are for you to decide: Philosopher, Goddess, Prophet, and Wanderer. I won't say anymore on them as I feel you should pick up this deck to sate that curiosity and support the creator yourself.
There is an option to purchase a more in-depth book from their shop for $20 USD. I would suggest picking up the book with this deck, even though I haven't had a chance to read it yet. In the description of the item it says there are spreads, in-depth meanings plus reversals, and a brief history of the tarot in the big book. As of writing this, the full guidebook is out of stock on Zabala's shop, but here's a link to the book itself anyway for your viewing pleasure.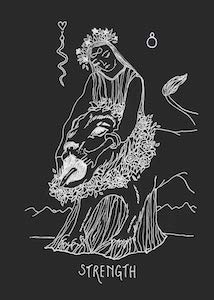 The sheer amount of self-reflection I've been forced to do with this deck is unreal. From the moment I pulled my first card, it was already reading me to filth. There is a brutal honesty in these cards that most of my other decks also have with me, so I guess that's just how I get messages best. Tell me straight up — no sugar coating, hit meh!
While I don't feel any more connected to the wider world around me through the work I've done with these cards, I feel more grounded in myself. I'm setting down roots that I need to start reaching for the cosmic truths this deck wants to throw at me. So, if you pick this one up, get ready for a journey cause you'll be going on one whether you think you want to or not.
The Wanderer's Tarot holds lessons that I think everyone should hear regardless of how you identify, and I would love to say everyone should pick up a copy, but I can't. Are you open to looking into yourself? Can you admit to yourself that things need to change and are you capable of enacting those changes? If the answer to any of those questions is "no", then this is not for you at this time. This change is what the deck wants for me and what it will want for you. It will make you think, it will tell you the same thing as many times as it takes to get you to do something about it. It will fight you FOR you to ensure growth is happening.
Antoinette Aird is a lifelong creator of whatever pleases her, thank you very much. Be it short stories that never see the light of day or ramblings on items she loves. When she's not shouting at the neighbor chickens for pecking at her garden or reading you can find her attempting various methods of divination or trying to befriend the local stray cats. Antoinette has a lot of thoughts floating around in her brain and is willing to share them. Come and sit for a spell…