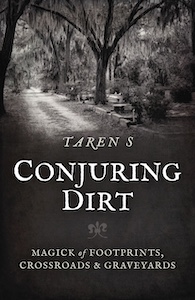 Conjuring Dirt: Magick of Footprints, Crossroads & Graveyards, by Taren S
Moon Books, 1803413328, 176 pages, October 2023
I love dirt. My father is a ceramic artist, so unlike other kids whose parents might have tried to keep them tidy, I was always encouraged to play in the mud and eventually learn how to shape clay into bowls and mugs. From there, my enjoyment of dirt, and nature in general, led me down a path of environmental science; I've studied the microbes in dirt and learned how soil's nutrients are vital for the growth of plants, which keep us alive through a balanced ecosystem.
But beyond the mind-blowing scientific study of interconnectedness through the ground beneath our feet, I'd never realized the potency of dirt from a magical perspective prior to reading Conjuring Dirt: Magick of Footprints, Crossroads & Graveyards by Taren S. This book has opened a whole new realm of magic to me, which I've been eager to embrace!
Taren is a seasoned magical practitioner with roots in the Carolinas, though she now lives in California. For over a decade she's worked as a spiritual counselor and tarot card reader at a Haitian Voodoo Doctor's botanica. She is initiated as a High Priestess within American Witchcraft and as a Mama Bridget within American Voodoo/Hoodoo. In Conjuring Dirt, she shares a lot about her personal path, giving readers perspective into how she's learned this craft as well as the traditions behind the content of the book.
"We all have sacred and special dirt specifically to us. When we go back through memories we can ground into the land, and we can build new memories through the land. This in itself is a magical spiritual journey."1
In this book, Taren teaches readers about three categories of dirt: Graveyard, Crossroads, and Purposeful (Footprint). She dedicates lengthy chapters to each one, giving the reader a full sense of the powerful energy held within the dirt and the many ways each one can be utilized in magickal workings.
She starts with Purposeful Dirt, noting that it's the "most common and easily accessible"2 kind. Since it's very versatile, Taren describes ways this dirt can be used for cleansing, banishing, and spellwork. She teaches about the types of spirit of place, such as Ancestral spirits and Land spirits, and how to connect and work with these spirits. Then she covers "spirit of the root" and how to unite with plants as allies. The list of plants and herbs and the way they can be used, which spans a whole ten pages, is immensely valuable to all practitioners, especially those new to working with plants and herbs.
Reading over parts of this section made me think of the land in a new way; did you know you can use the dirt from banks, casinos, and libraries for magickal purposes such as prosperity spells, amulets, and building knowledge?! Prior to this, I wouldn't have thought twice about the dirt or spirit of these places. Now everywhere I go, I'm thinking about the energy of my surroundings, taking time to pause and attune to the spirit of the place, and think creatively about how the dirt might be utilized.
Crossroads Dirt comes from the liminal spaces where "two different environments meet or intersect but is technically neither extreme."3 At these intersections, boundaries are thinner; it can feel like stepping out of time as multiple directions become available, prompting initiated action before the moment passes by.
"The meaning of crossroads is all about liminal space. Liminal space is that in-between point that means both we are neither here, nor there. Liminal space as represented by crossroads points to 100% potential and opportunity. It is the place where magick happens because it is that slight crack when/where anything can happen."4
In this section, Taren provides an overview of the global lore about crossroads, revealing similarities between cultures while also highlighting each one's unique lore. She also covers crossroads and witches, crossroads in dreams and modern magic, the significance of ley lines, and offers a crossroads tarot spread.
After sharing about crossroad magic in general, Taren goes more in-depth about Crossroad Dirt specifically. She teaches readers about the different types of crossroads one might gather dirt from and the significance of soil from each one. She covers how best to collect the dirt, petition the crossroads, and offers a ritual to open the crossroads. Other workings Taren provides are for propensity, a spell to forget, and banishing.
Last but not least, the section on Graveyard Dirt. Taren explains Graveyard Dirt "is used to employ the spirit of the one buried for your intentions."5 Taren covers so much in this section, from symbols on grave markers to gathering dirt from the roots of cemetery trees, and it completely opens new doors for readers. This section alone could be a whole book! But one emphasis that comes through strongly is showing respect for the deceased. I like how Taren always reminds readers to mind their manners above all else!
While reading the section on Graveyard Dirt, I've decided it's high time I go visit my ancestor's graves and leave an offering. I don't plan on taking any dirt this time, but I would like to begin cultivating a relationship with them, learning more about who they were in life and how I can maintain a relationship with them in their afterlife. To start, my dad and I decided we are going to begin purchasing grave markers for the family member's burial sites he's found that do not have them.
All in all, Conjuring Dirt is a wonderful resource for all spiritual practitioners. I would go as far to say it's been my favorite magical book I've read in 2023! Taren does such a wonderful job sharing all she knows to help readers begin to incorporate dirt in their workings. Her style of talking straight makes readers feel she really has their best interest at heart, ensuring they're doing things the right way and not making trouble for themselves down the line. This book is sure to reshape your perception of the land beneath your feet and give a deeper appreciation for the magic held within the dirt we often take for granted or overlook.

Alanna Kali is an astrologer, numerologist, and pioneer spirit that loves to explore life through the lens of depth psychology. She has a passion for studying the humanities and social trends. Her academic work is centered upon reuniting body, mind, and spirit through eco-psychology. She loves reading, spending time in nature, and travel.