2024 Moon Goddess Diary – Northern Hemisphere: A Year's Journey of Love, Connection, and Support – a Journey Back to You, by Nicci Garaicoa and illustrated by Olivia Burki
Rockpool Publishing, 9781922579560, 160 pages, June 2023
Anything that promises to harness the energy of the moon is a natural fit for me, so this diary was a no-brainer! In her 2024 Moon Goddess Diary – Northern Hemisphere: A Year's Journey of Love, Connection, and Support – a Journey Back to You, Nicci Garaicoa presents twelve goddesses to support women as you brave the new frontier of a new year.
 Garaicoa hails from Australia and is a medicine woman, energy healer, speaker, intuitive and author. She is known for her Full Moon Meditations, held on her beach in Australia for locals and broadcast for followers worldwide. Learn more about her at https://www.niccigaraicoa.com/. Illustrator Olivia Burki enjoys illustrate her pieces with both traditional artwork and digital media. Her art website is: https://www.iamfy.co/shop/olivia-burki.
On the cover of the diary, Garaicoa promises:
"A year's journey of love, connection and support. A journey back to you."1
This journal is a delight for the senses from the luscious dark teal cover with a mermaid holding the moon to the jewel tones of the moon goddesses featured for each month. Garaicoa opens the diary with a brief introduction and a few paragraphs that help you to use the diary in the most beneficial way. She includes a beautiful ritual to claim the diary as your very own. Next, she presents "My Goddess Self-Care Toolkit for Winter,"2 which includes color, sound, crystals, and plants, among other tools.  Writing in these few pages before the season begins helps you set intentions, call in support and plan for the three months to come.
I find it interesting that Garaicoa also suggests that you look through the three moon goddesses for the upcoming three months and select only one to be your primary support for the season. Yes, you will also work with the goddess for each month as you travel through the four weeks. However, the suggestion to select one of the goddesses for your primary guide each season is brilliant! This is a way to personalize the diary experience.
What follows next is beautiful goddess artwork for each month, as well as a description of the cultural background for each goddess, a mantra, a crystal and other ways to work with her. The diary provides a double-page spread for each week in the month. This allows ample room to journal, record a daily card or whatever your heart desires. Along the way, Garaicoa lists the New and Full Moons each month, so you can also do your intention setting and releasing rituals.
The pages for each month feature a beautiful pastel color that perfectly complements the color palette of the moon goddess for that month. Sprinkled throughout the diary are other pieces of art to accent the pages, such as fans, flowers, shells, or pottery.  Encouraging and inspirational bits of prose are also shown on select pages, as well as a "Ritual to Close Off the Year 2024"3 near the end of the diary.
Although I am familiar with four of the moon goddesses chosen for the diary, the other eight moon goddesses are new to me. It is so interesting that she features different countries and cultures for the moon goddesses so that learn more about customs and rituals for navigating the seasons. For winter, spring, summer and fall, she presents a unique toolkit for navigating the three months and this version was created specifically for the northern hemisphere. Since Garaicoa is based in Australia, this version is a wonderful way to honor those of us who live in another part of the world.
My favorite goddess is Coyolxauhqui. (pronounced Coy-yo-shar-ki) Perhaps because I live in Texas and have always been fascinated by anything from Mexico, I particularly resonate with this Aztec beauty. Garaicoa shares this information about the goddess for July:
"Coyolxauhqui's medicine for you is the most incredible example of how to turn your greatest traumas, wounds, pain and the drama that can happen in your life into your greatest strength and power, as she does each night by beaming her light across the world and shining as brightly as the moon."4
2024 Moon Goddess Diary would be great for any woman who wants to learn more about working with the signs and phases of the moon, as well as tracking her own energy throughout the year. Whether you are new to learning about the moon or have been living by the moon for several years, this diary is for you. The information on the goddesses adds a beautiful layer of support and the seasonal toolkits give you additional ideas for energetic healing and reinforcement throughout the year.
Garaicoa shares this last message on the back cover:
"Let 2024 be your year of change. This year, be guided, inspired, and supported by the 12 powerful goddesses in this full-color diary. Use their knowledge, bathe in their love, breathe in their radiance, and feel their power radiates through each page and into your life."5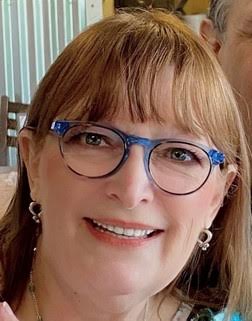 PJ Spur is an author, intuitive, spiritual mentor, astrologer, and hypnotist.  She does tarot & oracle card readings, natal chart readings, grief coaching, and relationship healing. She also has hosted a weekly "Coffee & Cards" event with her Soul Compass Community for the past four years. Her book Navigating Grief with Grace is available on Amazon. Learn more at www.dearpj.com