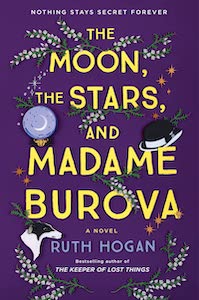 The Moon, the Stars, and Madame Burova: A Novel, by Ruth Hogan
William Morrow Paperbacks, 0063075431, 304 pages, September 2021
Sometimes I dream about having the life of a boardwalk fortune teller. What could be better than being near the ocean with the continuous swirl of entertainment and merriment as visitors enjoy their vacations. But as a professional tarot reader, I know there's a deeper, more hidden side to the profession. And this mixture of the enjoyments and secrecy is what Ruth Hogan has captured perfectly in The Moon, the Stars, and Madame Burova: A Novel.
This heartwarming tale centers upon Madame Imelda Burova, beloved tarot reader, palmist, and clairvoyant1, and a young woman named Billie who just lost both her parents, her job, and marriage. Madame Burova shares a trust and photograph given to her from Billie's birth mother, then the mystery compels Billie to find out the truth of her origins.
Grappling with the news, Billie forges a relationship with Madame Burova, who happily brings her into the fold of the eccentric community of the boardwalk.Though, the memories of the past do drum up old hurts for Madame Burova. Though recently retired, she's feeling a bit lost without her fortune-telling, which remained her core identity.
Madame Burova must confront her own past and the truths that Billie uncovers to resolve matters of the heart that have weighed heavy on her for decades. Flashbacks between past and present weave an intriguing story of romance and deception, as the readers try to piece together who Bilie's birth mother and father truly are.
What's so neat about the story is how it depicts Madame Burova's beachside fortune-telling lifestyle. Hogan does a wonderful job of portraying the emotional intricacies of being a tarot reader. From the secrets people confess to the intuitive knowledge that one knows but can't be spoken, the full experience of having the gift is revealed. Anyone who does tarot reading themselves or understands the fine line clairvoyants walk between the seen and unseen world would really resonate with her character.
Then in contrast, Billie is just the average woman doing her best to come to terms with this new insight. I enjoyed her as a character because she wasn't mopey or self-pitying. She had much self-awareness and wholeheartedly chose to embrace the cards that the Universe dealt her to remake her life. She is considerate towards others and willing to open up and cultivate the relationships with the new people in her life. Her story was one of hope, optimism, and friendships cherished and made.
Plus, how the two stories interweave is just brilliant! Hogan really did a great job of keeping the reader guessing who the mother and father might be. I had quite a few different suspicions throughout reading the book, but the end was even better than imagined! All the pieces are there, right under the readers' nose the whole time, but the way it all comes together is very well done. It felt good to read a mystery that for once wasn't about a murder! And I just loved the fortune-telling aspect woven in too.
This isn't a magical, enchanted story. Rather, it reads as though it could be real life. It portrays Madame Burova family, job, and relationships realistically, and they are all quite endearing. There was plenty of backstory about Madame Burova too. Hogan did a wonderful job of highlighting Madame Burova's roots with her Romani gypsy mother with a vardo in the back coupled with her Russian father that loved to cook. When she does find true love, it's very funny to see how her parents encourage it. And for those who love dogs, it's worth mentioning that Madame Burova has two constant companions through the years, Dasha and Mabel, whose antics always bring a levity to the situations in the book.
All in all, The Moon, the Stars, and Madame Burova was a 10/10 read for me. It's so rare to read fiction that depicts the normal life of a tarot reader, rather than having it be all about magic or sorcery. This was plain and simple a lifelike story that takes the reader on a journey of the full range of human emotions and comes together for the most perfect ending. Sometimes it seems the past and present intersect at exactly the right time to open the door for a fresh start, both individually and as a community.

Alanna Kali is an astrologer, numerologist, and pioneer spirit that loves to explore life through the lens of depth psychology. She has a passion for studying the humanities and social trends. Her academic work is centered upon reuniting body, mind, and spirit through eco-psychology. She loves reading, spending time in nature, and travel.