The Mythic Goddess Tarot, by Jayne Wallace and illustrated by Hannah Davies
CICO Books, 1800651554, 78 cards, 64 pages, October 2022
Connecting with various goddesses is a key part of my spiritual practice; I've found the goddess in her many forms provides tough love and restorative nourishment to my soul. When I picked up The Mythic Goddess Tarot by Jayne Wallace, I was immediately drawn to its gentle, intuitive energy that radiates the power of the sacred feminine. I thought to myself, "This deck truly conveys the Goddess's wisdom." And since then, the advice I've received has helped me immensely in navigating life's ups and downs.
Though the feminine pastel colors of the deck might convey this deck has a gentle tone, there is plenty of strength and power to be found in the messages of the cards. Each one of the 22 major arcana cards portrays a goddess that personifies its energy, all beautifully drawn and brought to life with vivid colors, while the minor arcana cards are differentiated by color and suit symbol (coin, sword, cup, wand). On every card is the name plus a one word meaning at the bottom. The guidebook provides more in-depth explanations of each card, but I've found the word at the bottom helps to quickly ascertain the card's message.
Speaking of the guidebook, it's a bright-colored booklet that features information on getting to know the cards, starting and finishing a reading, as well as various spreads one can use with this deck. In addition to the well-known one-card reading, past-present-future reading, and Celtic Cross spread, Wallace offers The Power Pyramid, The Crossroad, and The Divine Truth spread, which is neat because it covers the whole year.
Then Wallace shares meanings for both the major and minor arcana cards, though the major arcana cards are a bit longer because in addition to the keywords and meaning, which is what is provided for the minor arcana, there is also a section describing the goddess depicted on the card. She describes what the goddess is ruler of or oversees, as well as her mythology and where she originates from. The major arcana cards also feature a sentence-long mantra to say, affirming the message of the card.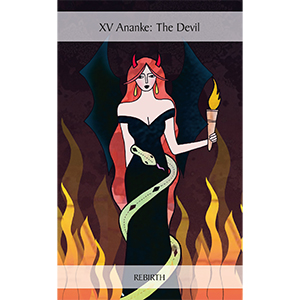 What I liked most about this deck was the choice of goddesses for each card. I have a ton of goddess oracle decks, yet it seems like it's always the same goddesses appearing. While there were some well-known goddesses (Athena and her mighty lion are portrayed on the Strength card, while Aphrodite and her paramore are on the Lovers cards), this deck featured quite a few goddesses I'd never heard of before, making me excited to learn more about their mythology and their unique attributes.
There is Asase Yaa, a West African goddess, representing the Empress, Luthianian goddess Ragana representing death, and Indian goddess Dhumavati representing the Hanged Man. I appreciate that it feels like Wallace put genuine thought and creative consideration into picking each goddess for this deck and went beyond the traditional goddesses, inviting new perspectives into querenets' reading through these cards. She writes in the introduction:
"One of the things I love about goddesses is that they are everywhere. From every corner of the globe, you will find mythologies, stories, and fables with gods and goddesses at their heart. Whether in ancient Greece, Africa, Asia, or Europe, or with any type of religion, it's easy to see throughout history the impact these superhuman beings have had on the shaping of the world as we know today."1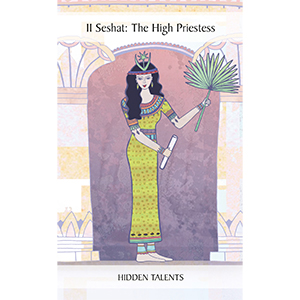 Another reason I've been using this deck often is because I love to display on my personal altar the serenely gorgeous artwork of this deck, which was illustrated by Hannah Davies. I've started a practice of shuffling just the major arcana and asked which goddess I should work with for the week. After I pick my card, I place the card on my dresser surrounded by crystals, flowers, and other little trinkets related to the goddess I've chosen. This helps me to connect with goddesses and feel her presence in my life daily, especially when I see the goddess of the week's qualities coming through in my interactions with others, guiding me to embrace the energy in play.
If I am having trouble connecting with the goddess's energy, I'll spend time gazing at the artwork on the card and meditating on the symbolism. This method is yet another way that I've found useful in opening myself up psychically to the wisdom of the goddess, and the beauty of the deck makes it a very aesthetically pleasing experience, even for the goddesses that tend to be more feared, such as Hekate (The Magician) or Ananke (The Devil). Wallace's description coupled with Davies' artwork make these goddesses feel more accessible, giving me courage to embrace their sacred teachings.
I will admit, I'm quite a fan of Wallace's other decks, such as The Angel Tarot, The Magical Nordic Tarot, and The Moon and Stars Tarot, so I'm not surprised that I connect so well with this one too. Wallace has a unique way of translating sacred energies into her decks that resonates with me, and I have noticed the way the various themes of her decks call to me at different times based on the type of reading I need at the moment.
Aptly, in addition to creating decks, Wallace has also used her spiritual gifts to bring together a tribe of wise women by founding Psychic Sisters, a team of clairvoyant women that offer intuitive readings in London and remotely, along with a wellness line that sells reiki-energized crystals, mists, oils, candles, cosmetics, and more. It's definitely worth checking out their website, as well as Wallace's other decks, if you're interested in connecting with psychic readers for more insight.
All in all, Mythic Goddess Tarot has become my favorite divination deck for working with the energy of the goddess. I'm still making my way through getting to know all the goddesses of this deck, but even in the short time I've been working with it, I've felt the potency of the goddess being woven into my life. Wallace has truly created a holistic deck, magically combining the many faces of goddesses from around the world to assist readers in connecting to the goddess within themselves when making meaningful life choices. I highly recommend this deck to those who enjoy working with goddess energy and are looking to more fully incorporate Her wisdom in their readings.

Alanna Kali is an astrologer, numerologist, and pioneer spirit that loves to explore life through the lens of depth psychology. She has a passion for studying the humanities and social trends. Her academic work is centered upon reuniting body, mind, and spirit through eco-psychology. She loves reading, spending time in nature, and travel.