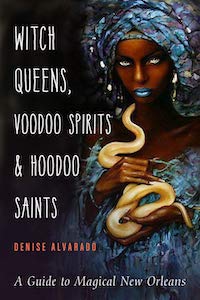 Witch Queens, Voodoo Spirits, and Hoodoo Saints: A Guide to Magical New Orleans, by Denise Alvarado
Weiser Books, 1578636744, 276 pages, February 2022
My spirit longs to visit New Orleans, but alas the time has not yet come. So I decided to delve into Witch Queens, Voodoo Spirits, and Hoodoo Saints: A Guide to Magical New Orleans by Denise Alvarado, letting her words transport me to the "sacred supernatural geography of the city"1. I've been completely absorbed in this book; Alvarado has done such a wonderful job illuminating the spirits and folk saints of this beloved city with a rich cultural history that I've hardly put it down.
Alvarado is a New Orleans native, who has been studying the indigenous healing traditions of the area for more than four decades. She teaches South conjure at Crossroads University and is also a rootworker in the Louisiana folk magic tradition. Alvarado has written quite a few other related books, including The Conjurer's Guide to St. Expedite, The Magic of Marie Laveau, The Voodoo Hoodoo Spellbook, and The Voodoo Doll Spellbook. She also has an online shop at creolemoon.com with plenty of magical items for sale.
"As anyone who has been to the Crescent City will tell you, you get a feeling when you are there that screams "elusive and mysterious." It's a gut-level feeling–you know there is more to it, but you just can't put your finger on it. All you know is that you want to see more, know more, and ultimately, feel more–more of that good old N'awlins supernatural vibe."2
This is definitely how I'm feeling! But after having read Witch Queens, Voodoo Spirits, and Hoodoo Saints, I feel like I know the potent visible and invisible world of New Orleans a bit more. In this book, Alvarado shares her research and experience about twenty influential Louisiana spiritual figures. With such a rich tradition, being as New Orleans is a merging place for multiple cultures, it's hard to put all the people and spirits covered into one category. From folktale hero Annie Christmas, warrior-for-the-people Black Hawk, Voudou Saint Jean St. Malo, African Diaspora god Papa Legba, and even Catholic Saint Joseph, Alvarado delves into adoption of these figures into the spiritual tapestry of New Orleans.
Chapter by chapter, with each one focusing on one character, Alvarado shares all she knows, which I am positive is more than even locals know because of her studious research. It's very clear that Alvarado has put dedicated time and effort into finding out all she can about these figures. And what I really appreciate is that she sticks to source material, which range from oral stories of New Orleans residence that were documented, old newspaper clippings, or even original source documents. If there's a story that Alvarado can't find source material for, she shares it but also lets the reader know she hasn't found information to back it up, keeping the reader fully informed.
Alvarado also sometimes presents different views, offering the reader diverse perspectives on the figure she's describing. This might be the different ways certain religious traditions portray a certain spirit, or differing versions of folktales. Alvarado lays it all out for the reader to truly see the full picture. And this made for a very interesting read because that's how real life, and even more so spirituality and magic, tends to be – there's no definitive answers and we're doing our best to piece together information based on sources, experience, and stories from others.
Oh, but each story Alvarado shares is just so interesting! And her writing style is very conversational; her colloquial way of writing really draws the reader in! Alvarado successfully engages the heart, soul, and imagination all in one with these stories. You feel the pain of the spiritual figures, or those in need praying to them; you can taste the offerings being laid out; you can feel the culture the figure's life took place in; you can see the Voodoo queen going about their daily lives. The weaving together of so many stories is tantalizing and will certainly have your mind wandering, hoping you get the chance to see these places in real life soon. And just in case you don't get to right away, there's plenty of pictures included throughout to provide visuals of what Alvarado describes.
This book is also beneficial for those who are hoping to expand their magical practice. If you've felt drawn to work with some of these figures, Alvarado provides useful insights. Now, I don't mean you'll suddenly be able to create your whole Voodoo or Hoodoo practice based on this book. That would require a much more in-depth study, obviously! But there's plenty of information about what to offer certain spirits, what they like on their altars, and basic prayers or spellwork that can be done. For instance, burying an upside down statue of St. Joseph to sell one's home or creating lucky garters to attract a generous man of means based on Lala Hopkins' grimoire.
For each figure, Alvarado does a wonderful job describing who they were (their life story, spiritual origins), the impact they had in their life, why one might call on them, and what offerings are best to make if one does decide to create a relationship with them. Plus, there's plenty of information about how different New Orleans spiritual practitioners or traditions work with these figures too for broader context.
Overall, Alvarado does a wonderful job teaching readers about the supernatural element of folklore vibrant in the city, opening them up to the multifaceted magic of New Orleans as an introduction to this very special place. Story after story, filled with historical information and practice magical how-tos, make this a very interesting book to read. Alvarado has skillfully pieced together tons of information to give the readers a fascinating guidebook about the figures that remain present in New Orleans folklore and culture, offering both blessings and curses depending on how they're called upon.
If you've ever felt the pull of New Orleans, Witch Queens, Voodoo Spirits, and Hoodoo Saints is perfect for learning more about the spiritual roots of the unique city; there's so much insight and knowledge packed into these pages, you're bound to learn plenty and have quite a few laughs along the way with these tales!

Alanna Kali is an astrologer, numerologist, and pioneer spirit that loves to explore life through the lens of depth psychology. She has a passion for studying the humanities and social trends. Her academic work is centered upon reuniting body, mind, and spirit through eco-psychology. She loves reading, spending time in nature, and travel.