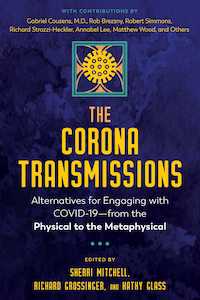 The Corona Transmissions: Alternatives for Engaging with COVID-19―from the Physical to the Metaphysical, edited by by Sherri Mitchell, Richard Grossinger, Kathy Glass
Healing Arts Press, 644113073, 374 pages, December 2020
It's been on the forefront of everyone's mind for nearly a year: COVID-19. The crucial shifts necessitated from the spread of the virus have impacted all aspects of society, One may feel so "over it' that they avoid having to think more about the topic than they must, but beyond the news, is there a deeper conversation we can be having about the transformative events taking place? The Corona Transmission: Alternatives for Engaging with COVID-19– from the Physical to the Metaphysical edited by Sherri Mitchell, Richard Grossinger, and Kathy Glass is a book I believe everyone should be reading as we slowly start to process what we've been through the past year.
The Corona Transmissions sets out to offer a wide variety of perspectives to make sense of what we've been living through during the pandemic. The fearful news and horrific stories of COVID-19 have been flooding our awareness since March 2020. As a result, we may be stuck in a mode of thinking that is limited in its capacity to see the greater picture of the role this virus is playing in reshaping our society. This book brings to the forefront the alternative voices out there that may not be highlighted in mainstream media. From poetry to homeopathic medicine, indigenous perspectives of Earth's restoration to the esoteric lens of astrology and tarot, the writers gift us a new lens to view the pandemic through.
The book is divided into three sections: Overviews and Transmissions, Medical Information and Healing Modalities, and Deconstructions, Divinations, and Visions. While each writer's work is loosely connected to the others in their section, every view is extremely different based on their own background, identity, and vantage point of what's going on. The length of each piece varies, which makes for a stimulating read because there's a variety to the flow of the book. One minute the reader is contemplating the socio-political failings of the nation that have led to an exacerbation of this situation, and in the next reading is focused on the experience of the coronavirus as a living being with its own agency, fostering a dialogue between humanity and the virus.
The uniqueness of each writer's thoughts is what I really liked most about reading The Corona Transmissions. Since it is a compilation of different perspectives, there is an overwhelming amount of wisdom filling the pages, and discovering the works of people I've never heard of before was one of the best parts of reading the book.. I connected to the work of many people that I may not have otherwise been exposed to but whose words I deeply resonated with, such as Barbara Karlsen and Eric Meyers. I was delightfully surprised by how much I enjoyed the perspective of stone alchemist Robert Simmons, who proposed the Earth is opening up a dialogue of communication with us. Additionally the poetry of Zoe Brezsny, Paul Weiss, James Moore, Stephanie Lahar, and Jack Foley was penetrative, emotionally stimulating, and very accurate depictions of the sentiment of this time. There was even a contribution from one of my favorites: Charles Einstein, author of Sacred Economics (one of the best books I've ever read).
The second section, Medical Information and Healing Modalities, was probably some of the best medical information I've read about COVID-19. This section was packed with data that illuminated the rate of transmission in relationship to other viruses and provided a really grounded perspective of the numbers and statistics that may otherwise be too complex to fully understand. It also was filled with suggestions on how to naturally boost one immune's system; from supplements to homeopathic remedies, there are many resources within this section to help the reader take control of their own health. There's even methods to use for if one does contract COVID-19 to ease symptoms and facilitate quicker recovery.
Reading this book has led to a lot of healing within that I didn't even realize I needed to be doing. Different writers hit spots within my heart and psyche, sparking a growth of consciousness and also nurturing the emotions that have not been "given voice" yet but wanted to be heard. Moving through The Corona Transmission gave me the opportunity to explore my relationship to fear, acknowledge what I'd been going through internally through this pandemic, and also restore hope for the future going forward. As the saying goes, knowledge is power, and this book is a resource that makes me feel more emotionally and spiritually resilient, informed about the nature of this virus, and prepared for what may be to come as we shift to a post-pandemic world.
Much of this COVID-19 experience of quarantining and social distancing has left us in "survival mode." We've been in defense against the virus, forced to make many personal sacrifices for the sake of safety. It certainly has been traumatic, and I'm sure there's going to be a sense of collective PTSD as we now begin to integrate the experience and move forward. The collection of writing in The Corona Transmission is a step in that direction. It is for this reason I highly recommend it to people who are seeking to create a new relationship with the virus, find emotional balm in the art that's emerged from the pain, explore alternative medicine to promote health, and open their perspective to better understand the large implications of all that has occurred.
Seeing the grief be turned into wonderful poetry and reading perspectives that contextualize this event in a more optimistic, or at least evolutionary, light reconnected me to a higher purpose. The voices in The Corona Transmission instilled a greater sense of meaning to the events that we're living through, helping me to shift from a personal view to a transpersonal view that encompasses a greater range of possibilities. Reading the writer's words made me feel reconnected to humanity, assured that we're all in this together and there's space for the perspective of everyone. In fact, it's vital that we come together and share our thoughts, feelings, and experiences, and this book is a magnificent start to the dismantling, processing, re-envisioning needed to prevail.

Alanna Kali is an astrologer, numerologist, and pioneer spirit that loves to explore life through the lens of depth psychology. She has a passion for studying the humanities and social trends. Her academic work is centered upon reuniting body, mind, and spirit through eco-psychology. She loves reading, spending time in nature, and travel.