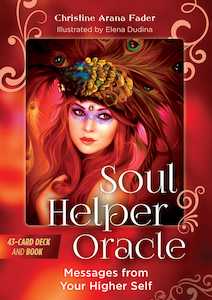 Soul Helper Oracle: Messages from Your Higher Self, by Christine Arana Fader and illustrated by Elena Dudina
Earthdancer, 978-1-64411-468-1, 43 cards, 128 pages, April 2022
When I first opened the Soul Helper Oracle: Messages from Your Higher Self by Christine Arana Fader, I was eager to start working with the deck. I shuffled for a bit, said my usual blessing for a new deck, asked a question, and selected a card. I pulled the "Success and Happiness Are Coming" card, which, ironically, is the card whose illustration by Elena Dudina adorns the box cover and the front of all of the cards.
I placed the card in front of me, spending time looking at the glorious illustration of a woman, her under-eye area ringed with small purple jewels, a crystal located over her third eye, and her flaming red hair crowned with peacock feathers. She tells me to enjoy and celebrate life – a message I definitely needed to hear.
Before looking up the card's meaning in the accompanying small book, I read the introduction that explained how to use the cards, interpretation methods, and consulting an oracle. In hindsight, I would have been better served to have read the introduction that Christine offers first. She describes how the deck guides a person to notice when our souls are speaking to us (which is really all of the time) and to heed its advice, meaning to go deeper into the storm of life facing us to find peace, to search for the truth within, and recognize our potential.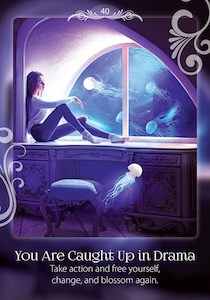 The deck is meant to be used to discover the core issue facing us when a card is pulled, to find the essence of the matter at hand, and to work with the recommended soul helpers. To do so, she recommends pulling only one card and working with the issue at hand for 21 days.
This is not the deck to use for a fast answer, but rather to work with the four soul helpers associated with each card: power animals, herbal essential oils, healing crystals, and numbers. Through a deep 21-day dive on what is being communicated, your soul's messages will reveal themselves. It is through this extended focus and soul support that the vibrations offered by the soul helpers can help bring "clarity, divine light, and wisdom and will immediately bring about a change for the better, opening doors and guiding you toward happiness."1
The accompanying booklet describes the characteristics and associated vibrations of the four soul helpers and how to work with them over the 21 days. For example, with the herbal essential oils you can put the recommended oil in a diffusers, or onto your crown chakra, or spritz it in a spray bottle filled with spring water and the oil to mix with your aura.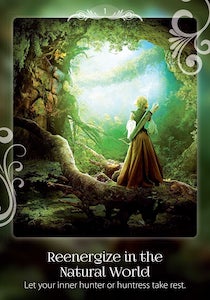 I've lived with this deck for a few months, and just before sitting down to write this review, I pulled another card: "Nature is Calling You". The card states Nature wants to touch, fulfill, and protect me with its healing powers. With a wink and a nod from my soul, this was the same card that I pulled three weeks ago. And, its message is one that I not only need to hear, but to believe and then live willing to accept the help that is given so freely to me by my soul.
The predominant color of this card is green. A girl clothed in what looks to be a bikini of green leaves, holds some moss to her ear, much like we sometimes hold seashells to our ear when at the ocean. Her head is cocked to one side as she listens, surrounded by ferns, a small waterfall in the background. The power animal of the card is a puma; the herbal essential oil is tea tree; the healing crystal is emerald; and the number is 2.
The wisdom of the card's offering is spot on for me and it reminds me that the issue raised by the card is not necessarily an easy one but an urgent one. It resonates with me tremendously. I will willingly work with the four soul helpers, heed the message, and work on the prodding that tells me to let go of lower, negative energies and forgo the dark paths of victimhood and begin to shine in my true light instead.
Christine Arana Fader and Elena Dudin have birthed an amazing beautifully illustrated and written deck. I loved Christine's statement that "your soul is telling you to enjoy life, even its storms and silences, to treat everything as if it were a game in which you are the winner. It tells you to have faith in yourself and your strengths, and to trust your own magic."2 The challenge for me has been to actually live my belief in this. Working with this deck has given me guidance on how to trust my soul to guide me on this path and to not resist or overthink, or to allow myself to override the divine light of the soul.
I highly recommend Soul Helper Oracle but remind the reader that to fully access the help offered within that you really do need to sit with your chosen card and work with the associated four soul helpers for the 21 days. Invest the time in yourself, your soul is waiting for you to listen and work in concert. As Christine reminds us, "those things that you heal and liberate within yourself will heal and liberate the whole world."3

Anne Greco is a non-fiction writer who writes about her life experiences and travels with humor, keen observations, and the hope that her words will remind us that "we're all just walking each other home." Her book, Serendipity: Chance Pilgrimages, tells the story of Anne encountering her places of power. As she reconnects with herself at each site, Anne also develops a deeper understanding and appreciation of her connection to both the seen and unseen worlds. Learn more about her work here: http://annegrecowriter.com.