The Inner Compass Oracle, by Dana Whitby, illustrated by Coral Antler
Shuffled Ink, 9798218032456, 48 cards, 124 pages, 2023
The Inner Compass Oracle is a beautiful deck of 48 jewel-toned cards with a companion guide book that shares wisdom for life. Within the framework of the four directions, Dana Whitby issues this invitation:
"As you use The Inner Compass Oracle, you will journey through each of these directions to discover what they represent to you and how to utilize their power."1
Dana is well versed in mediumship, regression therapy, holy fire reiki, and meditation. She has been using divination cards since 1999 and holds an undergraduate degree in psychology and a master's degree in counseling. Dana also has a number of courses available on various online sites. You can learn more about her at www.danawhitby.com.
With a combination of digital collage and colorful accents, Coral Antler has illustrated this deck in a richly symbolic style. Coral Antler works with spiritual entrepreneurs to brand and communicate their soul gifts. Also known as Jennifer Birge, she is a seer and offers healing services to her community. Learn more about her at: www.coralantler.com.
Dana was a participant on a webinar I recently attended. I entered a contest to win her new deck, and I won! Here's the creator's own description of the oracle deck:
"The Inner Compass Oracle is your guide to harnessing this tool for yourself in order to better navigate the changing tides ahead of you."2
The box is decorated in a palette of desert colors, from gold to russet to the lilac of a sunset. It is sturdy enough to hold the cards and stand up to routine use. Once inside the box, I saw that the cards themselves were created in rich jewel tones. They are a standard size for oracle cards (3.5 X 5) and feature a matte finish and rounded corners. Plus, the card stock is a nice weight.
The deck is stunningly beautiful and easy to use. Each card is a masterpiece! Most feature landscapes or seascapes and many are adorned with a female figure. Some highlight everyday items, such as a cottage or compass or weeping willow. Others feature spirit animals, crystals, or divine messengers. The combination of graphic elements is truly magical.
Here is a synopsis of the four directions used by Dana to separate the cards into four sections: east reminds us we are always divinely connected, south helps us with shadow work, west focuses on self-love, and north tunes us into intuition to move forward and create positive change. Dana also includes basic information, such as how to set up a reading, two ideas for spreads and astrological information to add additional guidance for five specific cards.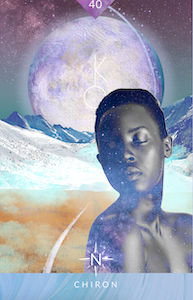 I jumped right in with this deck and did a three-card spread for myself, using one that Dana recommended: Body, Mind, Spirit. I worked with this question, also from the guidebook: "What is most important for me to know at this time?"3
The cards I drew are as follows:
Body: Lake (East) – Reflection, Unconditional Love, Divinity, Heaven on Earth
Mind: Pluto (North) – Fears, Removing Barriers, Subconscious
Spirit: Polaris (North) – Consistency, Self-Reliance, Structure
From the very first card, I knew that I needed to get out in nature, especially near the water or under the night sky. The messages from the guidebook combined to remind me of my divinity, the importance of facing my fears and the gifts of my own self-reliance and consistency. The Pluto card spoke to me directly and a message came through from my own Guidance Team: "May I now see and celebrate such beauty in myself."
Making note of this personal bit of guidance is so important. Dana writes several times in the guidebook about the value of listening to our own guidance, rather than simply relying on only her words for each card:
"This isn't to say I doubt my own channel messages, but any thoughts, feelings or emotions you experience trumps all. Your own intuition is your supreme guidance, so if you feel a different interpretation coming up for you, choose that. You are your own greatest source of truth, so let my messages serve as a jumping off point."4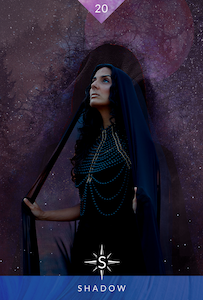 Very impressive for a deck creator to remind her audience of the value of claiming their own guidance. This is the mark of a true master teacher!
Next, I did readings for thirteen friends, which were quick, one-card readings with the information from the guidebook, so I could gauge the authenticity and relatability of the messages. For the first friend, who is a healing practitioner who works in several modalities, I drew Aquarius (North).
This card spoke very directly to her readiness to share the wisdom gained from a lifetime of living on earth and employing spiritual principles. As a healer and elder in our community, it's time for her to step up and be heard. She thanked me for the message and said that she was considering doing some classes. This message was confirmation for her.
For another friend, I drew Nautilus with key words: Inspired Action, Evolution, Spiral Path. The guidance from Dana and her Divine Team shared the idea of seeing life as a spiral, and the need to revisit old patterns in order to heal. My friend wrote to thank me for the reading and added: "That couldn't be more accurate. I'm definitely going through another spiral with something." Every person wrote to thank me for the guidance, and a few commented on the timeliness and truth behind the messages they received.
My personal favorite card in the deck is Wildflower. Dana encourages us to stop comparison or self-criticism and stand up tall, like a wildflower. The beautiful flowers depicted on the card and the joyfulness of the female figure really spoke to me.
This deck would be good for anyone from a new reader to a more seasoned reader of oracle cards. Dana walks you through every step to do a reading for yourself or another person. The language is written in a very conversational tone and you really feel she is right there with you, encouraging you on your journey. Dana and Coral added this note about the artwork and I enthusiastically concur:
"Each piece of artwork in this deck was consciously and lovingly created by Coral Antler to honor both the heavens and earth, mirroring the duality of the Divinity and humanity within you. All images and messages have been channeled directly from the Divine so that you may receive validation, encouragement, and support."5
In the future, I'll use this deck in client readings to start the reading, to provide context or tone for the guidance that I will share. I feel that the messages from The Inner Compass Oracle will be a magical addition to the work I do with women who are seeking life guidance.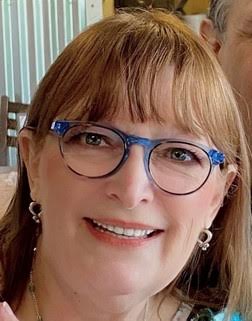 PJ Spur is an author, intuitive, spiritual mentor, astrologer, and hypnotist.  She does tarot & oracle card readings, natal chart readings, grief coaching, and relationship healing. She also has hosted a weekly "Coffee & Cards" event with her Soul Compass Community for the past four years. Her book Navigating Grief with Grace is available on Amazon. Learn more at www.dearpj.com