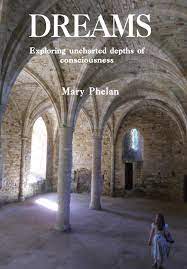 Dreams: Exploring uncharted depths of consciousness, by Mary Phelan
Mandrake of Oxford, 1906958985, 240 pages, November 2020
I decided to read Dreams: Exploring uncharted depths of consciousness by Mary Phelan because I'm in the midst of an 8-week course with Robert Moss, a pioneer writer in the field of dreams, and am finding myself seeking other perspectives to supplement what I'm learning. I figured Phelan, who has documented all her dreams for 11 years, might have the insider perspective I was seeking! Reading Dreams, it became very evident that her dedication to analyzing her dreams has yielded impactful information that has assisted her in navigating life's twists and turns. Luckily, this book offers methodologies for readers to effectively understand the messages of their dreams and the great wisdom they hold for us. It was a wonderful complement to the exercises, activities, and dream-timing I am doing these days.
What stands out most about the content of Dreams is the way Phelan recounts her personal experiences to assist the reader with making their own connections to their internal world. Discussing the content of dreams isn't alway easy, as it calls for a different type of thinking: the mythic, poetic, and creative side of our brain. Phelan helps the reader to get into this state of mind by referring to the great works of Shakespeare and other artists to awaken this mindset for us. She also refers to the work of Sigmund Freud and Carl Jung to illuminate the connection between our subconscious and conscious mind. There is quite a bit of focus on the concept of archetypes and the individuation process, especially as it pertains to fairy tales.
Drawing on examples of ingenuity that were prompted by dreams, such as the invention of the sewing machine, Phelan asserts that success in life comes to those who nurture their ability to discern the subtle prompts of their subconscious. A dream isn't simply random images that appear in your slumber, it's a jam-packed reel of scenes, feelings, encounters that when examined can lead to revelations about your waking life. Phelan devotes a good portion of the book to describing imagery, settings, and relationships that occur in dreams to explain their web of possible meanings. She has a wealth of experience to share about how she would interpret a dream and, as a result, was able to capitalize on something in her waking life.
A strong sentiment that Phelan conveys in the book is that one must take action in order for this process of working with dreams to be effective. Yes, most people naturally dream every night, but there's a whole slew of ways to improve one's ability to have dreams and successfully recall them. Some examples are getting enough sleep, not eating or exercising too close to bedtime, having an evening routine. It is also vital for one to put in the effort of tracking their dreams, both big and small, in order to be able to track on-going patterns. One way she suggests doing this is by having a dream notebook.
Then the most important step follows: taking action on what the dreams reveal! As much as you are prompted and prodded in your dreams, nothing will actually change or manifest without acting on the knowledge that has come through the dreams. I enjoy this reminder because sometimes I do not take the time to reflect on my dreams, especially on a busy morning. By taking the time to slow down and create an intentional practice, I have already started to be more aware of the content of my dreams and piece together the bits of information I receive while asleep.
The other point Phelan repeatedly brings up in the book, truly more of a warning than assertion, is about keeping one's dreams secret and only revealing them to a trusted few. I was intrigued by this because I'd never heard any other dream practitioner offer this caution to the dreamer. From what I've studied, in certain cultures, such as the Australian Aboriginal, discussing dreams is part of the social bonding. Families will discuss dreams every morning to piece together the information they are receiving to assist the community as a whole by connecting the dots to see a bigger picture, or sometimes messages are sent through the dreamer to share a message with a relative or friend. 1
However, Phelan takes the approach that because dreams contain such sensitive subconscious information, one must be careful who they are shared with. Before sharing your dreams with another, it is worth reflecting on how much of your personal life you are comfortable with this person knowing, and whether they are truly someone you can trust to hold space and respect the content of your dreams. Furthermore, Phelan brings up a wonderful point about how speaking your dreams too soon – before you've fully figured out their meaning – can make them confounded with someone else's interpretation. Above all, Dreams helps the reader to value their own ability to decode the messages of their dreams and respect just how valuable the insight contained within them can be. Thanks to Phelan's insight, I now can respect and value the aspect of silence regarding dreams and hope to better sense when it is appropriate to share and when it is not.
My only reservation about this book is that at times it can feel a bit scattered. Phelan has packed in so many topics, ranging from the science behind why we dream to the effectiveness of dream catchers to an analysis of the story "Aladdin" that it becomes hard to fully follow along with ease. Sometimes it felt like the book was here, there, and everywhere, with very abrupt transitions from one focus to the next. This may be because I prefer to go deeper into one topic, rather than explore a variety of topics quickly. For instance, there's a chapter titled "Cosmic Dreams," which delves into astrology, astral bodies, and aliens, that is followed by "Sleep Disorders and Nightmares," which describes the phenomenon of sleep paralysis and other sleep disorders. The smorgasbord of it all can feel a bit overwhelming when not in the right headspace to be integrating so much knowledge at once. For those who like to move slowly and really dive into a subject, this book may be too much to handle.
Additionally, although Dreams is meant to empower readers to discern their own meaning of dreams, Phelan shares a lot of personal examples about how she's interpreted things and not as much insight on how someone can do this for themselves. The amount of archetypal explanations of possible meanings for situations, scenes, and objects in dream described in the book seems like it could steer a reader away from figuring out their own interpretation. I hope new readers are able to use her personal experience as a model without resorting to it in order to draw upon her pre-made associations to interpret their dreams. There is a chart at the end with all types of objects, places, and situations that may appear in one's dreams. While this tool may be a good starting place, it also seems contradictory to Phelan's advice to figure out your own personal interpretations because every symbol will have its own meaning based on your personal experience and mindset.
Overall, Dreams: Exploring uncharted depths of consciousness is a candid depiction of Phelan's journey and process of working with dreams that is a suitable read for beginner or advanced dreamers. It is well-sourced and packed with scientific data, psychology knowledge, and personal experience that offers a strong framework for someone who is seeking to develop their own practice of working with dreams. Phelan effectively conveys how this work can be used for deepening one's self-knowledge and empowering oneself by getting in touch with the internal guidance of dreams. If you want an overview of all the different facets of dream exploration, this is a good choice because it spans many topics in an introductory fashion that will help you get started in doing your own dream analysis.

Alanna Kali is an astrologer, numerologist, and pioneer spirit that loves to explore life through the lens of depth psychology. She has a passion for studying the humanities and social trends. Her academic work is centered upon reuniting body, mind, and spirit through eco-psychology. She loves reading, spending time in nature, and travel.